50 Classic Marine Haircuts for Men – Serving In Style
Why are military and marine haircuts trending? The reason is that their simple styles provide men with a look that is easy to maintain, functional and of course, very manly. You won't see any long locks or fancy styling here just fashionable styles to suit every guy.
# 1 Smart Skin Fade
This style is called a skin fade – that is where the hair starts longer (in this case it has been cut with clippers in the front) and gradually blends shorter until it's completely shaved.
# 2 Report for Duty
For this hairstyle his red locks have been shaved short on either side, leaving a longer section on top. While this hair is also short, it has been styled into a small, neat wave just above the forehead.
# 3 Military Move
In this picture, we see a military inspired style that has been graded from long on top to short on the sides and at the back. The hair is gelled forward and a little lift keeps it trendy.
# 4 High and Tight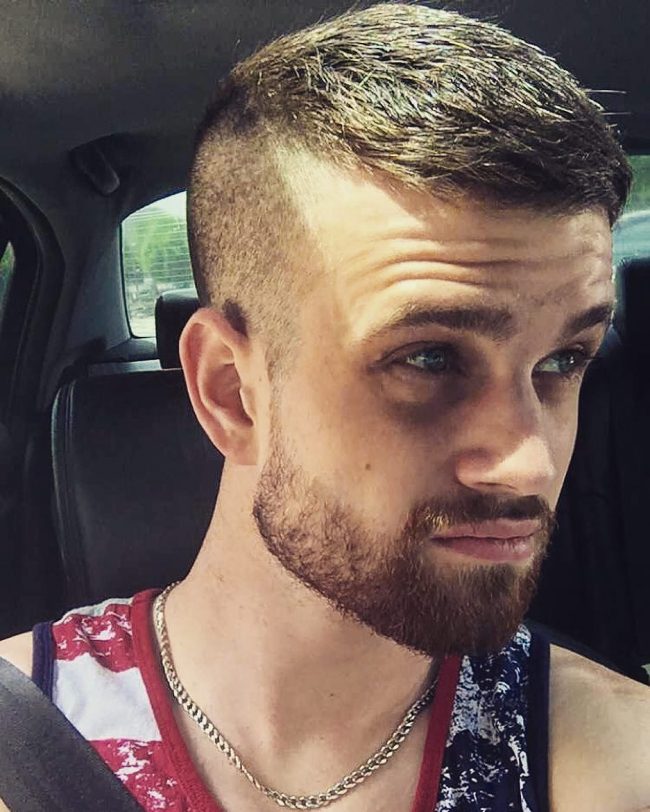 This haircut has a sharp distinction between the short sides and lengthier hair on top. An interesting detail was also added by shaving a V shape from the temple into the razor cut side.
# 5 Masculine Marine Style
Is it a Mohawk? Not quite, it's a marine look hairstyle with super short sides and longer hair that stretches from the front right back to the nape of the neck. 
# 6 Flat Top Fashion
In this picture, we can see that the hair has been shaved down to stubble leaving only the section between the temples and back to crown with longer hair. This hair has been brushed up and cut into a flat top while the sides were gradually blended.
# 7 Protect and Serve
In this hairstyle, the sides are short but gently blend into the lengthier hair in the crown area. This style is simple and easy to maintain – just right for the marine!
# 8 Combat Comb Over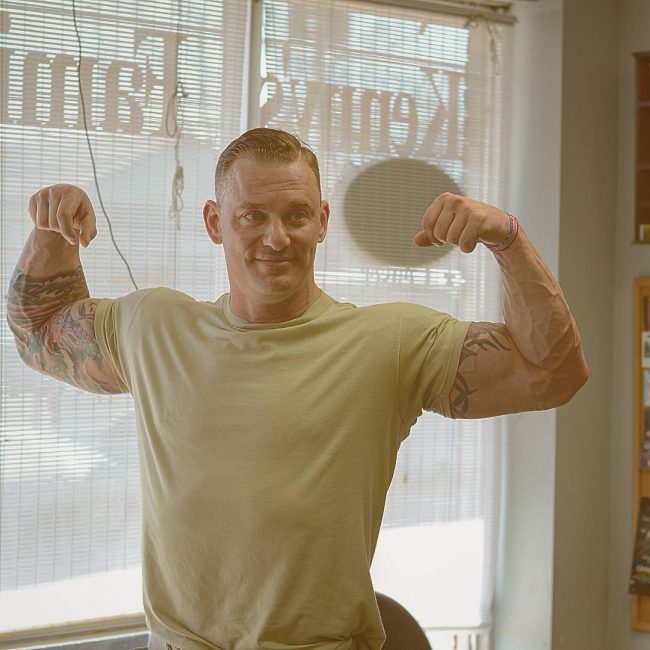 To create this smart look the hair has been snipped short all over and an off center parting has been added. The hair has been neatly combed over to one side.
# 9 Bristle Top
This is another example of the popular flat top style. Here the hair has been shaved completely on the sides and top hair has been treated to brush cut, then snipped flat.
# 10 No Nonsense
In this look, we can see that the sides are shaved bald and the top hair has been blended into them slightly. The remaining hair, which extends from the forehead to the crown, has been brush cut.
# 11 Crowning Glory
There is an interesting twist to this smart style, but you need to look closely. Notice the shape of the undercut? Instead of being straight it has a curved detail.
# 12 Dapper Duty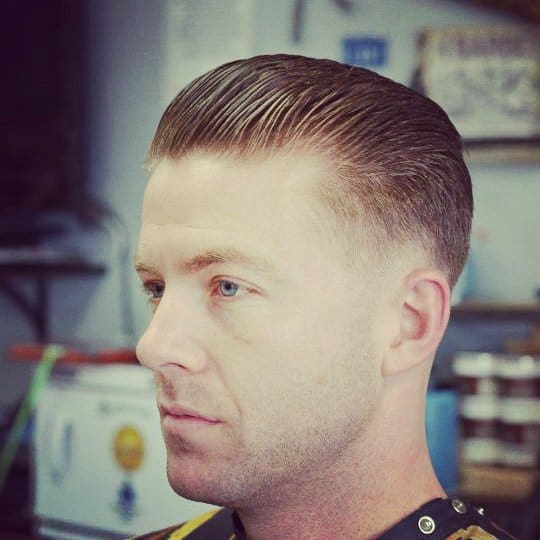 In this classic hairstyle, the locks are combed back sharply over a graded undercut. We can see a skin fade as well and just above the ears the scalp is clean cut.
# 13 Layered with Lift
While front lifts would not generally be seen in authentic military haircuts it is a good way to update the style. Here we see a well-contoured undercut and brushed forward front section.
# 14 Fall in Line
Flat tops are hot and there are a number of ways to wear them. In this example, the hair has been shaved to stubble length along the sides, while the longer hair has been given a ruler straight edge.
# 15 Style Solider
Hair got a bit of curl? You can show it off in a marine fusion style like this. The eye is drawn up toward the brushed up front section, which has a slightly tousled feel. 
# 16 Handsome Blend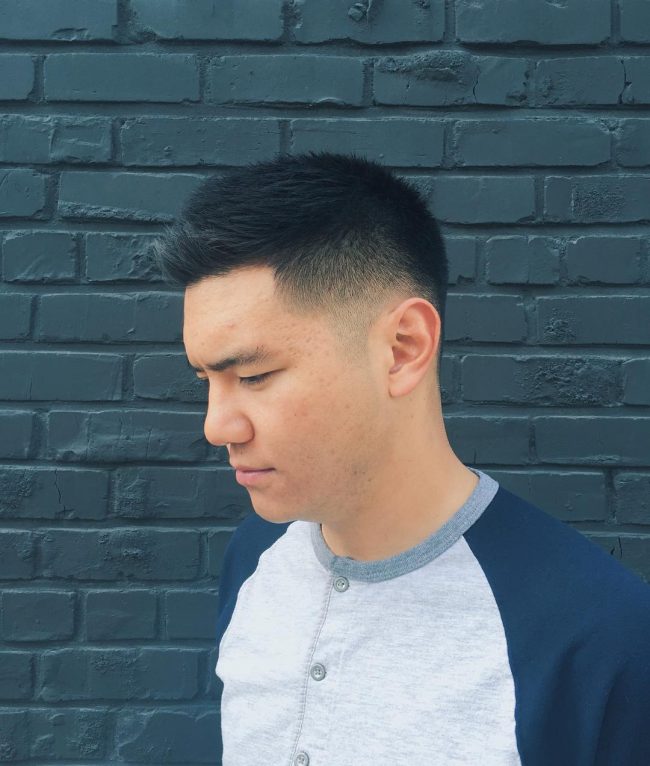 His lovely black locks have been trimmed into a neat style with the top portion long enough to brush up in front. The sides show a gradual shift into an undercut and they are not as closely trimmed as the hair at the back.
# 17 The Landing Strip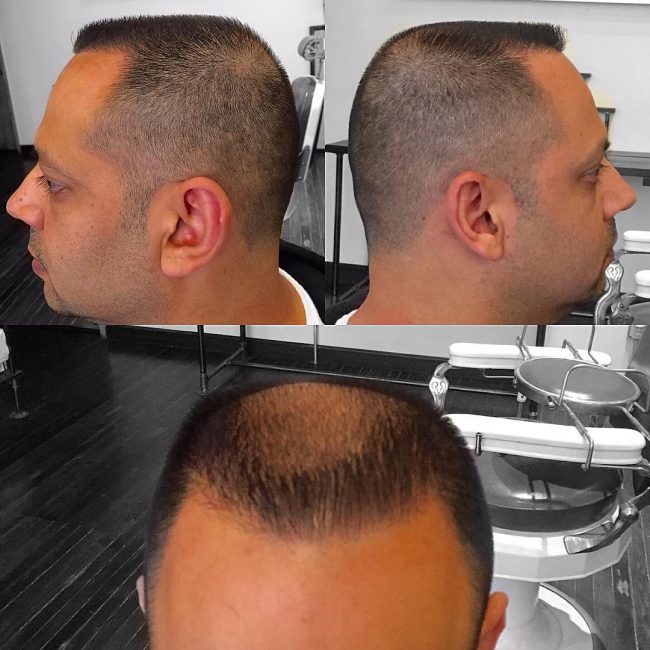 In this look the hair begins super short on the back and sides, slowly becoming longer as it reaches the crown. The top hair has been given a flat top cut, but there is also a triangular detail that can see seen from overhead.
# 18 Hair Cut Glory
This haircut features short sides with a hide side parting on the left. The hair on top has been combed forward and gelled into a wave above his forehead.
# 19 Hard Parting
A hard parting (cut with a razor) is the perfect complement to a sleek marine haircut. In this example, the sides are clean shaven and just a small section of hair can be seen alongside the hard parting on the left.
# 20 Smooth Fade
Short slicked back styles will always be popular and this military inspired cut is tops! There's an almost flawless fade between the hair and the skin and the locks have been finely combed back. 
# 21 Shear Perfection
In this bold look, the head has been razor shaved entirely bare apart from one horseshoe shaped section over the forehead. These long bristles have been given a sheer brush cut.
# 22 All In Order
It's hard to say what the best feature of this style is because every aspect is so precise. It features slickly combed hair, a super straight parting and a gorgeous razor fade on the left. Very smart indeed.
# 23 Style Scout
Clean cut sides like this do require regular maintenance as they look their best freshly shaved. What to do with the top hair? A tight brush cut, of course.
# 24 Front and Center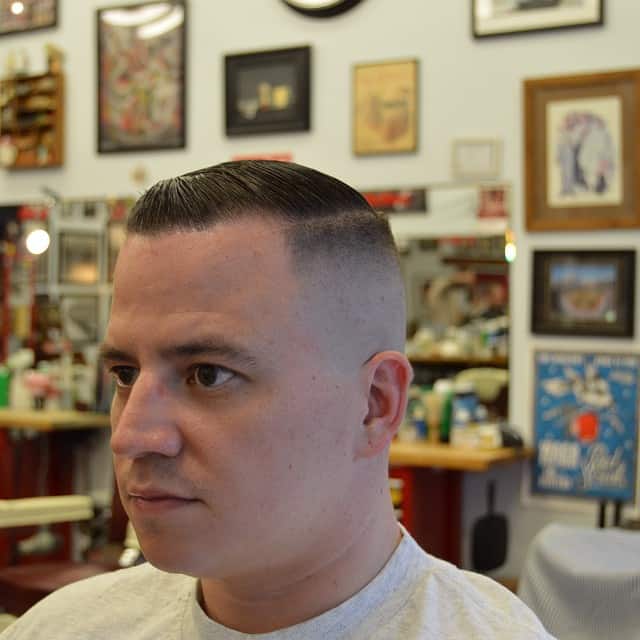 In this style, the front locks have been finely combed back while the hair on the sides is combed towards the center. There is a high side parting, with a graded undercut alongside it.
# 25 The Generals Cut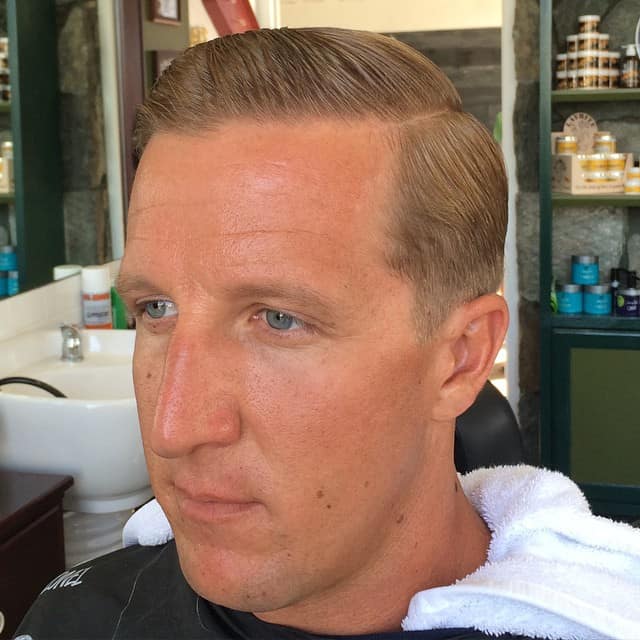 In this classic military cut, the hair is parted along a high side parting. The hair on the left has been tapered shorter while the right-hand side locks have been combed to the side.
Idea # 26
Idea # 27
Idea # 28
Idea # 29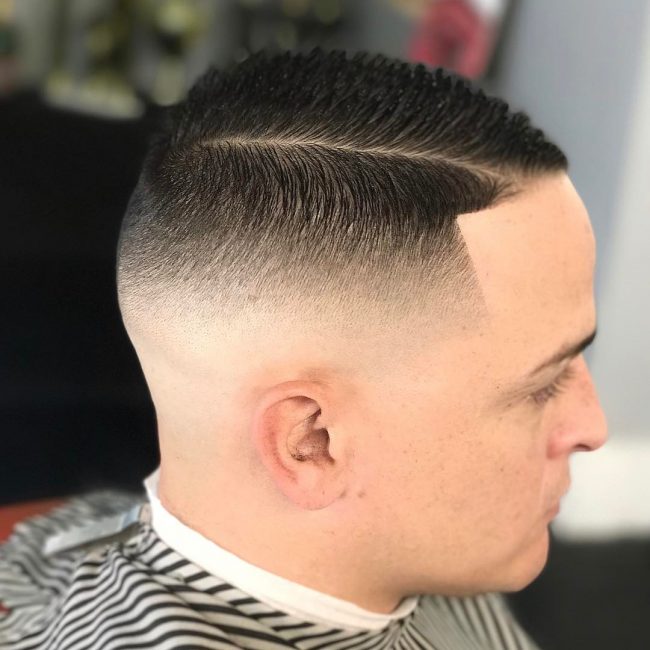 Idea # 30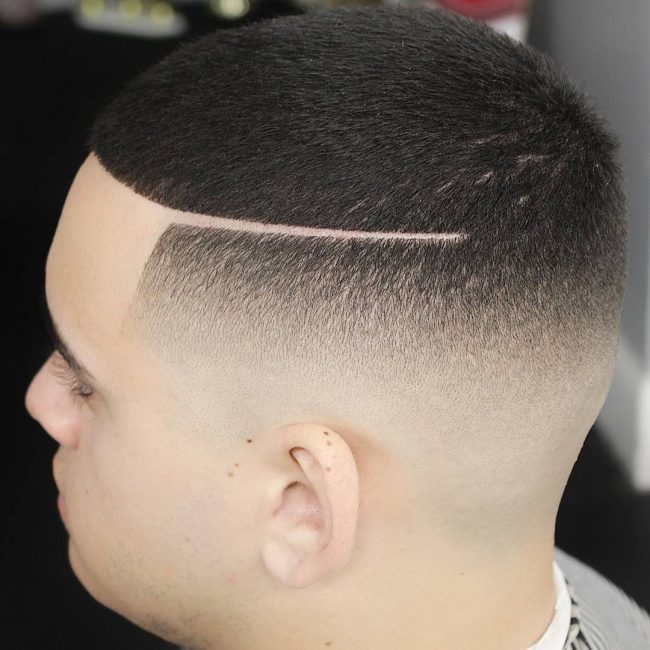 Idea # 31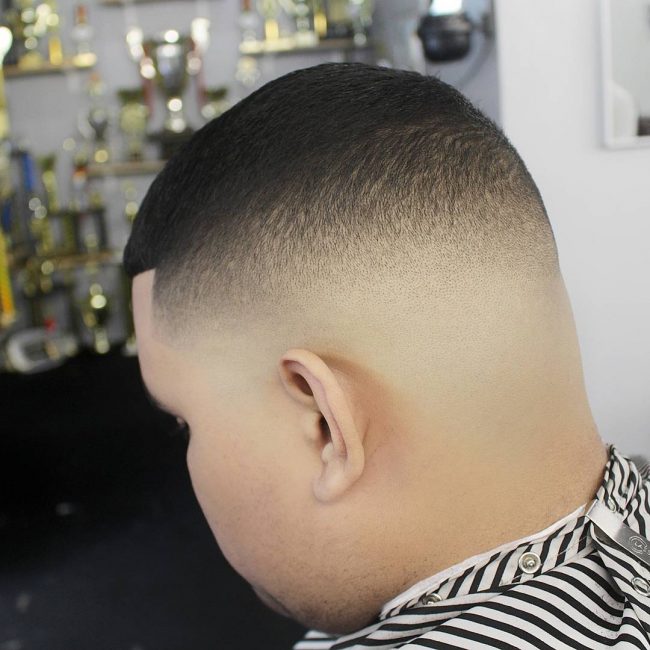 Idea # 32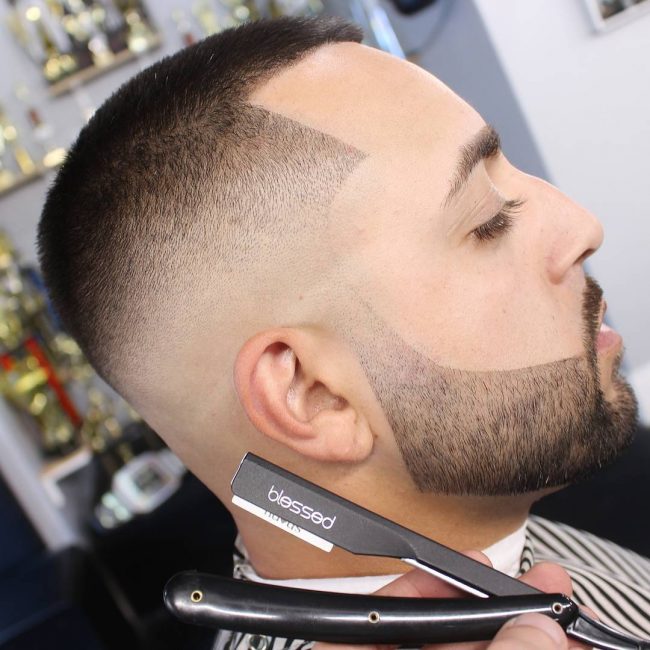 Idea # 33
Idea # 34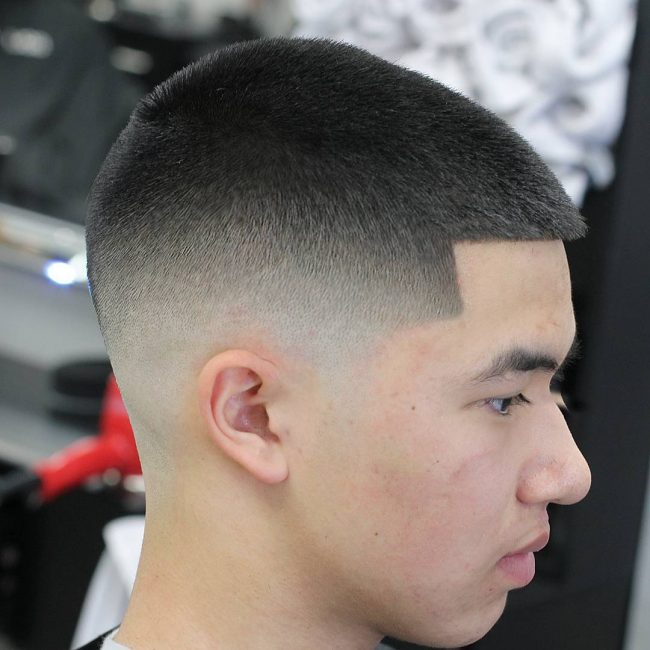 Idea # 35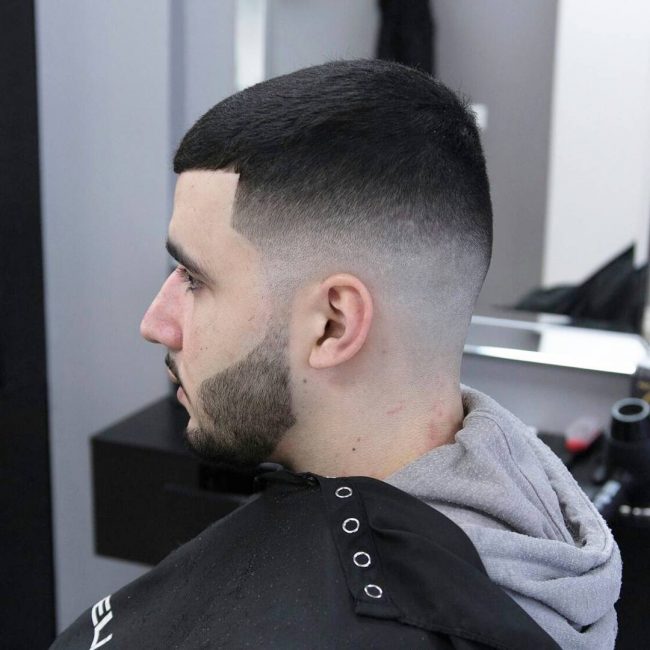 Idea # 36
Idea # 37
Idea # 38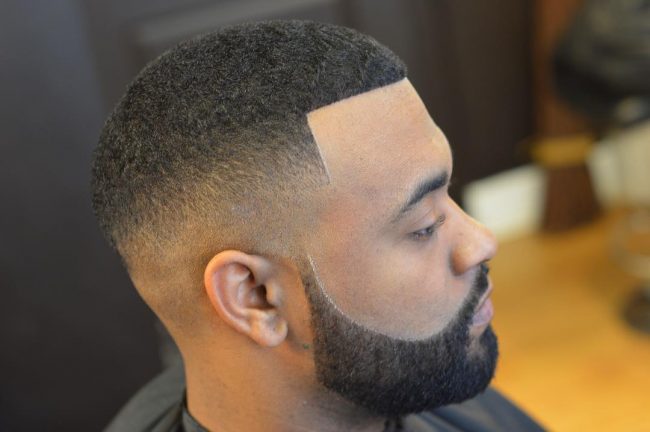 Idea # 39
Idea # 40
Idea # 41
Idea # 42
Idea # 43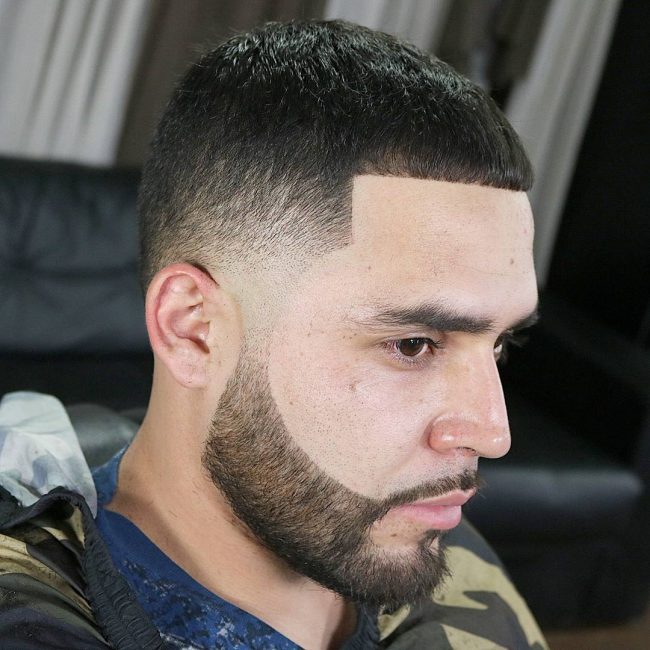 Idea # 44
Idea # 45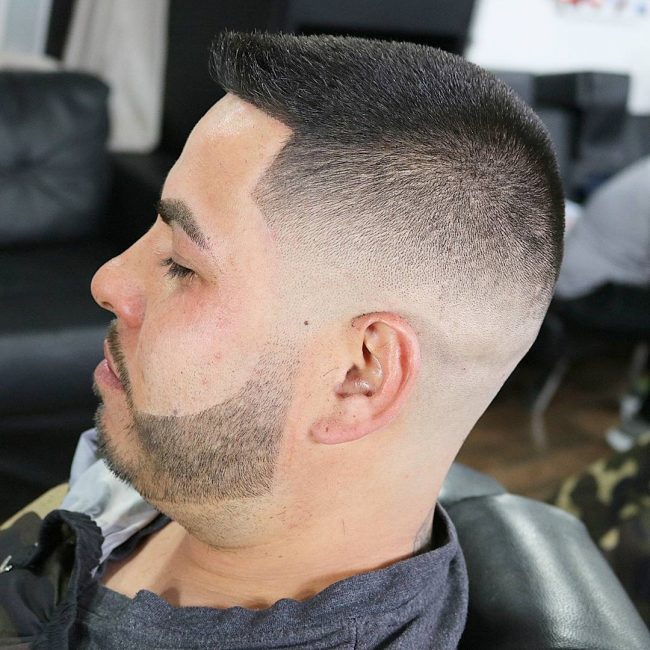 Idea # 46
Idea # 47
Idea # 48
Idea # 49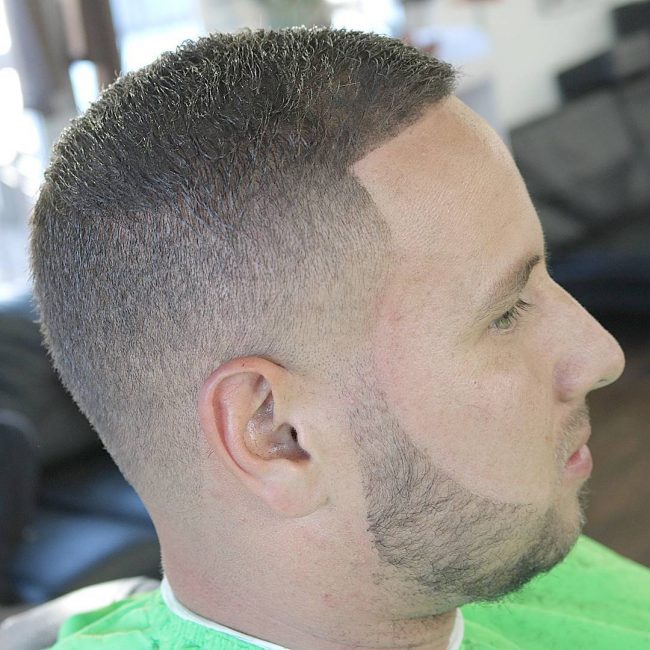 Idea # 50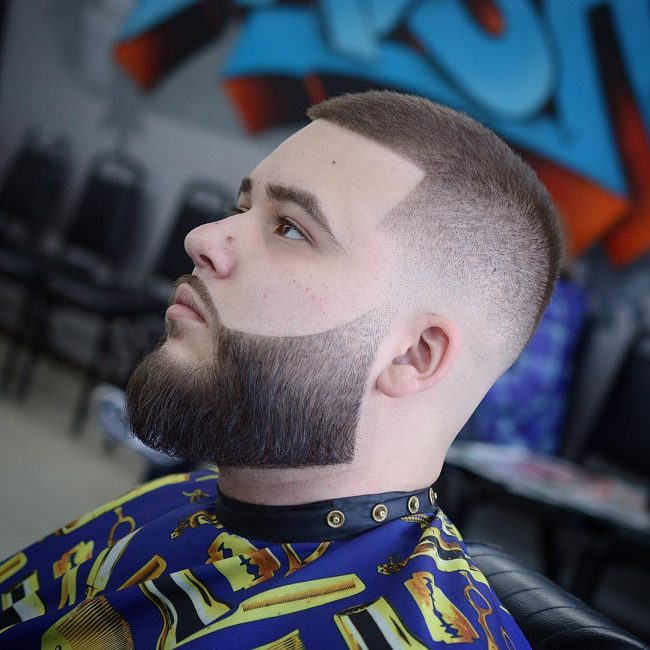 So how to get this military or marine look? Start with short locks and sharp lines – keep in mind that the style objective is a haircut that looks polished and pristine. A popular look for any longer locks on top is to give them a flat top, but you can choose a brushed over style if that's what you prefer. Remember that you can add any detail you like to make your haircut unique!