Rockabilly hair refers to styles made popular during the advent of rock and roll music. These were greased styles with high volume that generally looked very neat and polished.
Modern rockabilly hair draws inspiration from these retro styles and has created a host of hairstyles – ranging from the classic pompadours and jelly rolls to more trendy takes on these styles.
These pictures show some of the most sought after looks – prepare to be inspired!
# 1 Enormous Rockabilly Pompadour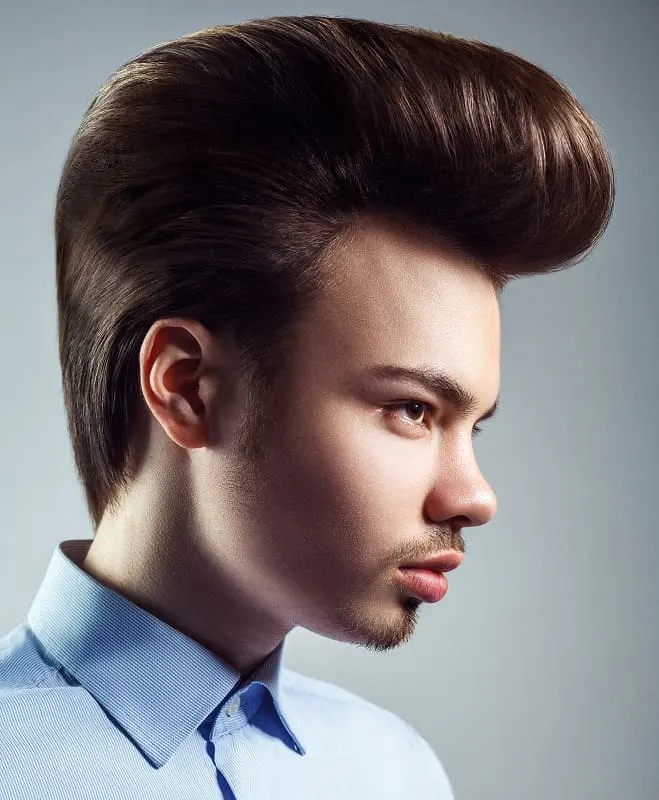 For that classic, huge, rockabilly style you'll need a lot of hair to work with. Brush the hair back, sleek, and form an enormous pompadour.
# 2 Greased Slick with Front Roll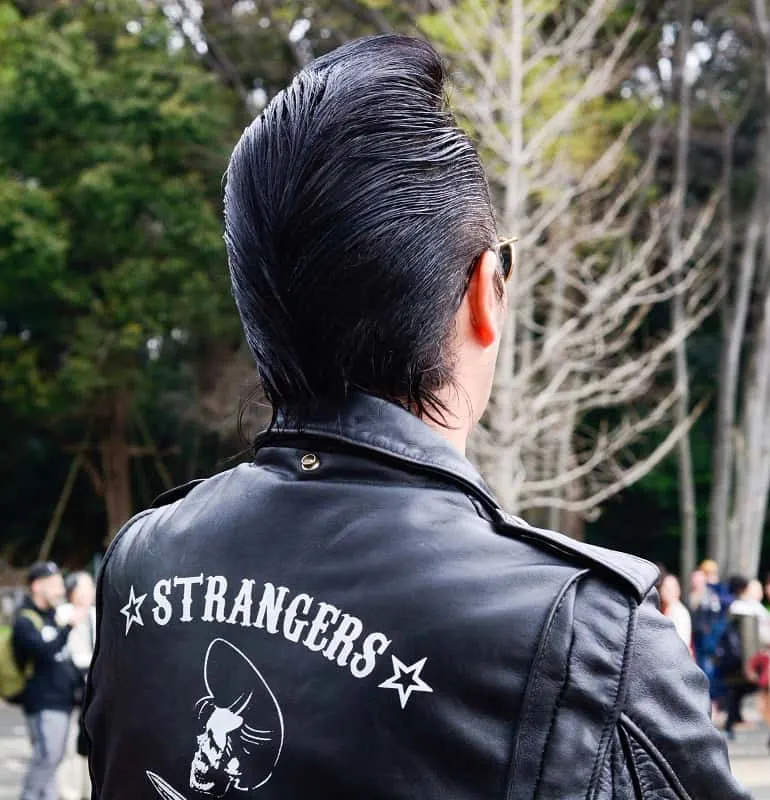 Consider this greaser style, where the hair is slicked back and visibly oily for a bad boy look. We can't see from the back, but the front most likely features a stylish swirl on that protruding piece of hair.
# 3 Side Swept Greased Look
If you still desire the greaser look but not as excessively as above, some light greasing with your hair brushed to one side pays casual homage to the rockabilly era.
# 4 Wind Swept Spikes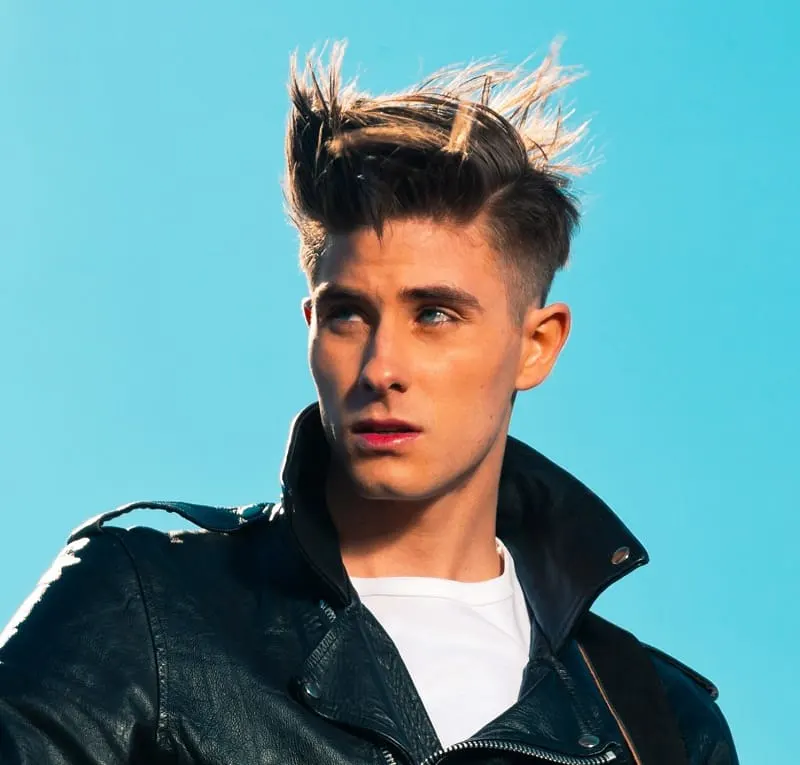 For a voluminous style with lots of motion, use some wax to style your hair into one, large side swept spike. Gently displace some hair, giving you a wind-swept look. Move this free hair around during the day so it looks natural.
# 5 Lazy Boy Pompadour
If you want a pompadour but with a more casual aura, brush the front of your hair to one side but don't make it slick. Make the end of the look fall messy for an easy look that says, "I woke up like this."
# 6 Pomp It Up
Here an undercut has been performed that has been gently tapered. The long hair on top has been slicked back and given volume in the pompadour style.
# 7 Endless Moves
In this very chic rock and roll inspired style the hair has been styled into a rounded wave that curves on the head. His locks are slicked back, adding precision and shine to this look.
# 8 Straight Out Rock
In this picture, we see an undercut that runs along the nape of the neck. The rest of the hair is long and has been brushed up from the neck, bring all the hair forward. The hair has then been fixed in place with the product.
# 9 Rockabilly Spin
Quite a singular look has been created here with the hair being pulled into two long fold-overs at the back. These fall forward – creating a high volume look in front.
# 10 Concert Hair
Heading to a music concert? Try this simple 50's look! Here medium length locks have been combed back severely, having just the slightest light in front. Complete the look by adding some grease to hold it in place.
# 11 Classic Rockabilly
In this classic style, the hair was shaved short on the side and a well-defined parting was added. The hair at the top has been styled into a high curled wave that tapers to the back.
# 12 Sleek Upstyling
Jagged lines shaved on the sideburns add to the rockabilly feel of this look. A high undercut has been applied while the longer hair has been styled up.
# 13 Lift Revival
Flat hairstyles are out – bring on the pompadour! This style has great volume while still looking soft and touchable. The light fawn brown and discreet highlights help this hairstyle pop.
# 14 Jelly Jive
The look you see here is called a jelly roll – the top hair has been divided down the center and then curled into two long rolls that sweep down to meet each other. In this look, the sides are usually razor trimmed.
# 15 Retro Sweep Style
Over the ears, the hair has been shaved completely and then gradually graded in a high undercut. The hair in the front of the style is swept straight up and tapers off toward the crown.
Extra interest has been added by the addition of a sharp square detail above the temple.
# 16 Fashionable Forties Do
His chocolate brown hair is the perfect complement for this suave style. The look is tall in front and all the hair has been brushed back. A small high parting divides the upper and lower locks.
# 17 Rock Fusion
One of the things to love about this popular style, that starts high in the center and tapers to the back, is that it can look great on almost any guy and it's easy to maintain.
As you see here it's a look that's suitable for both business and pleasure!
# 18 Smooth and Tall
An eye-catching detail here is the square shape that has been shaved on the temple. This straight shape plays on the tall curved shape of the hair above.
# 19 Copper Roll
In this style, the sides are shaved bare and then the hair is razor cut up to the top portion. The front section has been curled back at an angle and the high curl leans forward slightly onto the forehead.
# 20 Tapered Sides with Tall Top
Here we again see the clean cut sides that taper up to a high well-defined parting. The style has a high wave in front, slicked to a shiny finish.
# 21 Rocking in Blonde
When we think rockabilly we usually picture styles created with dark hair. However, this picture demonstrates that blonde hair can look just as trendy in high top styles.
# 22 Sectioned Looks
Instead of the normal smooth slicked back look, this style blends texture with the tall top. This hair has been sectioned and ironed to create small waves that blend together.
# 23 Punk Pompadour
This style blends together the punk and the rockabilly look. The sides are shaved high and the hair is longer on top, tapering to become shorter behind the head.
# 24 Curving Curl
In this look, the high brushed over fringe tapers off, but instead of going straight back it gently curves around the side of the crown. Below the tight parting, we can see a blended razor cut.
# 25 All Shook Up
In this look, there are lots of small elements that come together to make a great hairstyle. The hair that is brushed up has a lovely wavy texture and it glides into a blended undercut. Then sharp razor lines have been added around the face.
# 26 Flicked Fringe Detail
This standard short sides and long top do has been livened up by ironing a small section of hair in the front and flipping it over the smoothed back locks.
# 27 Two Tone Under Cut
To create this unusual look his hair has first been parted with a high, curved parting. The top portion of hair has been styled into a neatly rounded coif.
Under the parting, the hair is cut shorter and another parting has been made. Under this parting, the hair is at its shortest.
# 28 Bringing Back the Curl
In this style, the hair has been combed from the right temple to fan out over the head. Detail has been added with a tight peak and curl in the front section.
# 29 Classic Dark Lift
The fantastic lift has been created here not only with styling the front section of hair up but also by giving it a ruffled texture on top.
# 30 Elvis Has Left the Building
Here again, we see the jelly roll detail, that has been styled to curl around the head together with the tapered sides.
Idea # 31
Idea # 32
Idea # 33
Idea # 34
Idea # 35
Idea # 36
Idea # 37
Idea # 38
Idea # 39
Idea # 40
Idea # 41
Idea # 42
Idea # 43
Idea # 44
Idea # 45
Idea # 46
Idea # 47
Idea # 48
Idea # 49
Idea # 50
Idea # 51
Idea # 52
Idea # 53
Idea # 54
Idea # 55
Idea # 56
Idea # 57
Idea # 58
Idea # 59
Idea # 60
Idea # 61
Idea # 62
Idea # 63
Idea # 64
Idea # 65
Idea # 66
Idea # 67
Idea # 68
Idea # 69
Idea # 70
While some rockabilly styles are quite extravagant as we've seen there are others that are more subtle and can actually be an everyday style.
Men particularly enjoy the short sides and the defined lines of these rockabilly hairstyles so it doesn't seem that they will fade out of fashion in a hurry!