Men are always looking to get the trendiest or coolest hairstyles, and most of them are willing to spend a fortune to make their hair look sharp.
This is rightfully so because most people will naturally judge a man from the type of hair he wears, and so wearing a good hairstyle is not only necessary, but a must have for any man to be complete.
There are many sexy hairstyles to choose from, but it is important to choose something that is suitable for your face shape, hair type and most importantly your personal preferences and tastes.
To make it simpler for you here is a list of some trendy hairstyles for the modern man.
# 1 Medium Messy Hair
The medium messy hairstyle looks like grown out mane, but it is still very fashionable and sexy. This style is simple to wear, and some men do not have to do anything else on their hair besides from letting it grow to a medium size.
Men with curly and wavy locks will have an easier time wearing this style because all they need to do is make their hair messy with their fingers ones it gets to medium length.
Men with long or straight strands can get this style by scissor trimming and styling hair to give it a messy appearance.
# 2 Colored Hair
Hair coloring is one of the simplest techniques you can use to make your hair stylish and trendy. However, not all colors look good on the hair and some colors also look good only on a particular type of hair and skin tone.
Due to this, it is important to choose a color that will work well with your mane, considering volume, size, and texture, and one that will blend in with your skin tone.
The most popular hair colors and perhaps also the easiest to work with are the different shades of brown and some types of gray.
# 3 Short and Curly with Shaved Sides
Curls will probably look incredible on any man provided he know how to wear and style them. To wear a curly hairstyle, you do not have to have a naturally curly mane as there are many ways to make your hairs curled.
In this particular style, the curls are left in the top section while the rest of the head is closely and neatly shaved.
A generous amount of gel or any other quality styling hair product is applied; and then the hair is styled frontwards. Pair this style with a fully grown beard and you have yourself a sexy look.
# 4 Textured with Layers
Adding some texture to your hair gives it an additional volume and hence making it easier to style. In this cut, the hair is cut in layers and then given some lovely texture.
To complete a fabulous hairstyle the sides are then trimmed short, and the longer top strands are styled forward to cover the forehead up to the eyebrows.
This style is particularly good for men with an extended or irregularly shaped forehead as it makes it possible for them to conceal it.
# 5 High and Tight Slick-Back Balded
High and Tight cuts are more common with military haircuts, but there are different variations of this style that can look sexy in a man when done correctly.
A good example is this style where a short hair is left at the top part of the head then slicked back. The sides and back are then balded to complete this refined look.
# 6 Chilled and Slicked
Medium length hair looks much better when combed back at the top with the sides and back closely shaved or bald.
For any slicked locks to look good, it is important to use a hair smoothening product to make it easy for the hair to be pushed back.
This style looks particularly good on dark and voluminous mane because the slicking effect will be more visible and it is also easier for the style to hold in thick hair.
# 7 Messy Top with Some Movement
Messy hair is popular due to its simplicity and the fact that it can be worn with almost any type of it. This sexy style adds some twist to an already good looking messy hairstyle by adding some movement to their locks.
Beside from the movement, the sides are also tapered to make sure that they are in tune with the attractive top section because a wrong cut on the back or sides can ruin a good hairstyle. This style is more suited for men with medium or thick hair and any face shape.
# 8 Natural Flow Back-Balded
Some men have very nice hair and so wearing a sexy style for them is almost effortless. This style is a good example of how easy it is to style natural mane that is voluminous and dense.
For this style, all that a man needs to do is to smooth shave the sides and back while living a long top section.
The long top hairs are then made to flow back in their natural pattern. You can use your hands to throw back the strands but if you want a more neat finish use a comb.
# 9 The Slightly Messy Front
A slightly messy front can add some style to a rather plain and simple haircut. In this cut, the hair is medium in length at the top while the sides and back are slightly trimmed with a scissor but some uniformity is maintained with the top hairs.
The longer top is styled forward towards the forehead, and the tips of the top hairs that protrude to the forehead are messed up to complete the style.
# 10 It's All About The Curls
Any good barber or hairstylist will always tell you that the best thing you can do for your hair is to work with its natural flow rather than try to force it into something different.
And so men with curly locks will always look better when they base their hairstyles on their curls like in this amazing hairdo. Curly hair is very easy to style, and it also gives you plenty of options to choose from for a perfect look.
In this style, the sides are shaved very short while the thick curly strands are maintained at the top. The top curly hairs already look good in their natural state and so a little styling and adding some texture will be all you need to complete this look.
# 11 Super Low Disconnect
This is a clean and simple haircut that will make you stand out from the rest if you wear it. And it proves that sexy does not always have to be complicated because a simple disconnect on the side and dense texture in the top hairs is as hot as it gets.
This style looks better on blonde hair because this hair color makes the disconnect line more visible.
The texture in the top hairs will not only make the hair look good but is also an added advantage as it will make it easier to style and so you will not have to spend many minutes working on your locks.
Neatly and closely shaved sides and a clean face without any facial hairs will complement the style.
# 12 Neat High Top
High top styles maintain longer mane at the top section that is then styled or combed to give it some height.
However, unlike most other high tops that have undercuts on the sides, this one is slightly different since it maintains closely shaved sides cut with the Clipper on grade zero.
The high top is also neatly styled unlike in other high tops where the top is left shaggy or flattened. This style is more suitable for men with thick hair because it is easier to create a high top with this type compared to other hair types.
# 13 Sexy Dark Hair and Bearded
Dark locks look good, especially when styled creatively and paired with a neatly trimmed and equally dark beard.
This cut demonstrates the beauty of a dark hair when it is styled intelligently. The top hairs are medium length while the sides are trimmed to match the size of the facial hairs.
Beside from the decent looking top hairs, the connection between the side hairs and facial hairs makes this style more attractive.
The secret behind looking good in this hairstyle is having dark hair, and so it might be necessary to color your mane to make it darker if it is not naturally dark enough.
# 14 Shaved Side Hair Trend
This is a sleek style that will not only make a man look sexy but will also make him look trendy and classy. It starts with a side parting to create two distinct levels of hair.
The top level that is the longer of the two is then slicked to the side or back to create a slightly high top. On the other side of the parting, the hair is gradually reduced as you move towards the sides and back with a very short locks level left at the back of the head.
# 15 Razor Shave with a Textured Top
A razor in the hands of a skilled barber can do things to your strands that will leave you asking how it's even possible.
This razor-shave with a textured top is an example of a perfectly done cut. Just by looking at this cut you would know that it was done by a professional.
The long textured top is the easier part to create since most barbers do this style on a regular basis but make sure that you get the right length at the top. The sides should then be razor faded and the style finished by blow-drying with a grooming spray.
# 16 Long Messy Quiff with Undercuts
Men with long mane who want to be sexy can try this eye-catching do that can go with any face shape. In this style, the top hairs are quite long and are made in thick spiky batches.
The sides and back are then given undercuts to complete a compelling casual men hairstyle. This style goes well with a short and nicely trimmed beard, but you can still look good in it even without the beard.
# 17 The Spiky Barber Art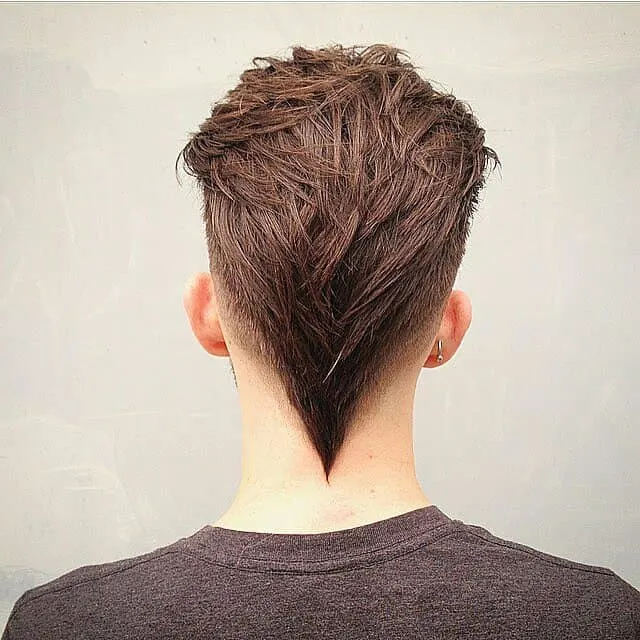 Barbers are artists in so many ways because even a simple shave can rightfully be classified as a work of art because a lot of skill is required to get it right.
This elegant spiky hairstyle demonstrates just how creative some barbers are. The spiky mane is shaved in a style that incorporates many different cuts for a perfect look.
At the top part, the hair looks like a comb-back, but the sides are closely shaved as you move towards the back. The style finishes with a V shape at the back of the head.
# 18 Medium Length Waves and Fully Grown Beard
This sexy men hairstyle involves a uniform medium length wavy locks that are combed back. The mane is combined with a huge beard to finish a very attractive look.
To wear this style you should have a naturally wavy hair as it will look much better. Even though there are many things you can do to your hair to make it look wavy, but it will still not look as good as the natural one.
# 19 The Elegant Top Hair
Describing this style as beautiful would be an understatement as it is way much more than this. This hairstyle combines strength, color, movement, texture and layering to create a haircut that you will want to wear again and again.
It starts with medium length strands at the top with sides and back shaved with the Clippers at number one. The longer top is then cut in layers and then given some highlight to add some color.
The textured top hair is then styled frontwards to cover a part of the forehead. Although this style looks fantastic, it will give you a more casual look, and so you should avoid wearing it for professional or formal occasions.
# 20 Trendy Medium Short with Side Part
This cut makes use of the skills of your barber and some nice color to give you a sexy look. The detailed part of this cut is the side parting that is not very clear due to the thickness of hair at the top part.
At the top, the wavy medium length is pushed very slightly to the side, and the small portion of mane at the center of the head is pushed back.
The hair below the side parting is then rapidly reduced towards the back and sides. A well-kept short beard goes well with this cut, and you should also not forget to add some color to the top hairs.
# 21 Lifted Higher
When wavy hair is cut shorter on the sides and left longer on the top section, it creates a laid back style that a man can wear to the beach or even to the office if he styles it decently.
To wear this style start with a towel-dried hair and apply a medium hold styling cream and concentrate more of it at the longer locks.
You should then blow-dry the hair and as you are doing so lift it at the root to create some volume for the top hairs. This style looks good on men with pear, round, square, and oval face shapes.
# 22 Textured Crop Style
This is a classic look that involves parting the hair on the sides and giving it a matte finish. It appears complicated, but it is one of the easiest and sexiest hairstyles that you can wear.
For this style, you need to trim the sides and leave longer hair at the top. You should then side part it on both sides but do not make the parting line visible.
Use your fingers to push the hairs to one side after towel drying it. Once the hair is completely dry, you should use your fingertips to make sure that the hair is facing the right direction.
# 23 Hipster Blonde Hairstyle
If you are looking for something fresh or different to lighten up your hair while still making you look sexy, then you should try the hipster blonde hairstyle.
It's a very simple style to wear because the main and most important thing is to color your mane blonde. However, the cut still matters a lot and so you should make it short and neat.
It is important to note that the longer the cut, the more visible your hipster blonde strands will be but make sure that the hair is not too long because it will create a completely different style.
# 24 Slick-Back Faux Hawk and a Beard
The Faux Hawk has been around for some time now and for all that time it has remained to be trendy, and so it's only fair for a couple of sexy hairstyles to take inspiration from this cut.
In this particular style, the sides are closely shaved while a voluminous hair is left in the middle section. This voluminous mane is them smoothened and slicked back with a comb.
To make things even more interesting, it is paired with fully grown facial hairs that are very distinct due to the disconnect created by the closely shaved sides.
# 25 The Diagonal Fringe
There are two categories of men when it comes to hair styling. The first group consists of conservative men who only go with conventional styles while the second one is made up of those that are not afraid to try new things.
This style is for the second type of men because besides from being sexy it is also quite unconventional. It involves a short trimmed back, a very long diagonal fringe, which is long enough to cover your eye and a neatly trimmed but still long beard.
# 26 Fabulous Man-Bun
Ladies adore men with nicely made man buns. As for men making a bun is probably the easiest thing you can do with your hair.
Besides from applying some products to make your mane shine, there is nothing else you need to do with this type of hair.
The most important thing in this hairstyle is to have a long well-kept mane and a good beard because long locks go well with a beard. Pull your hair and tie it in man bun at the center of the head and your have yourself a sexy hairstyle.
# 27 The Classic Man Look
This hairstyle is classic because it was a must have in the 1950's for any man to be considered fashionable and trendy.
It consists of a neat pompadour at the top of the head while the rest of the head is closely trimmed but is also impeccable.
Although in the past men used to pair it with a cleanly shaved face the modern variation involves a beard, but it is short and well-kept.
# 28 Scissor Cut and Side Part
The scissor is the original hair cutting machine and although there are faster and more advanced tools it still offers some of the best haircuts especially when in the hands of a skilled barber.
This style is a good example of the magic that a scissor can do on hair. Although this cut is not purely a scissor cut, the top part that is the focal point in this style is scissor trimmed. A nicely done side part is added to the cut then the hair is faded on the sides.
# 29 Messy and Classy
Messy locks do not always have to be casual as you can pull an incredibly professional and classy hairstyle with this hair.
To make your messy mane classy, you should keep things simple with the cut and styling and avoid overdoing things.
In this cut, the messy hair is left in the top section while the sides are trimmed shorter than the top but not as close as other messy hairstyles. If you have facial hairs, you can shave them short and neat to get a classy look.
# 30 Superb Side Parted Curly Hair
The deep side parting in this hairstyles and nicely faded sides makes this cut look incredibly attractive. Side parting the hair creates two contrasting types of style with the curly strands on the top part of the head.
A perfect beard job cannot also be overlooked as it adds equal value to the hairstyle. This type of hairdo is most suited for men with an oval or round face shape.
Idea # 31
Idea # 32
Idea # 33
Idea # 34
Idea # 35
Idea # 36
Idea # 37
Idea # 38
Idea # 39
Idea # 40
Idea # 41
Idea # 42
Idea # 43
Idea # 44
Idea # 45
Idea # 46
Idea # 47
Idea # 48
Idea # 49
Idea # 50
Idea # 51
Idea # 52
Idea # 53
Idea # 54
Idea # 55
Idea # 56
Idea # 57
Idea # 58
Idea # 59
Idea # 60
Idea # 61
Idea # 62
Idea # 63
Idea # 64
Idea # 65
Idea # 66
Idea # 67
Idea # 68
Idea # 69
Idea # 70
Looking stylish and sexy tells a lot about a man, and so you should never compromise on the type of hair that you wear as it is one of the most important if not the most important component of any style.
From the 70 sexy hairstyles, there is definitely one or a couple of them that will go well with your hair and preferences, and so you should try them for a sexy and trendy look.
However, keep in mind that you have to try a couple of hairstyles so that you may get one that will work well for you.