In this modern age soccer players spend almost as much time on their hair as they do perfecting a move or a new game plan.
In the football world, an image is everything because besides from the display that players put on the field their looks are always a talking point.
And as most of them are always looking for new endorsement deals they have to perfect their look. This has led to the development of many types of soccer haircuts with some being outstanding and others not so good.
However, whether the hair is good or a total mess, it will attract some interest and attention. Below are some of the players with some interesting hairstyles in world football.
# 1 David Beckham
David Beckham's hairstyle features a long top and short sides. The top is combed to the side and gets a bit of volume and lift from hair product.
# 2 Lionel Messi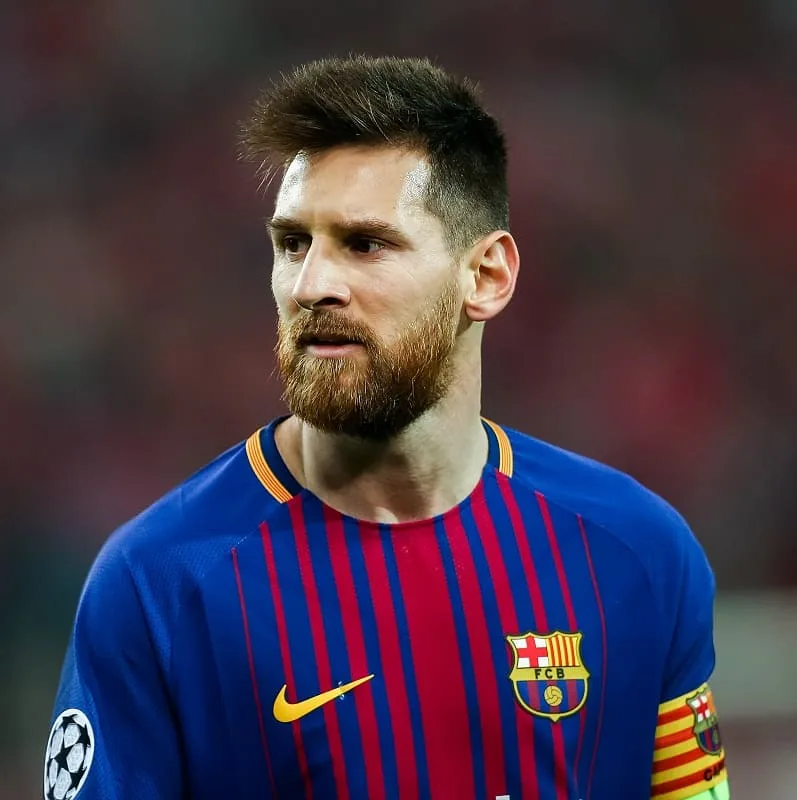 For men with particularly thick hair, create Lionel Messi's haircut by spiking up the top couple inches with a brush. The low faded sides will really emphasize the thick top.
# 3 Kylian Mbappe
Display your natural black hair's curls by keeping it short like Kylian's. It's less than an inch long and features a precise line-up detail for low maintenance.
# 4 Ionut Radu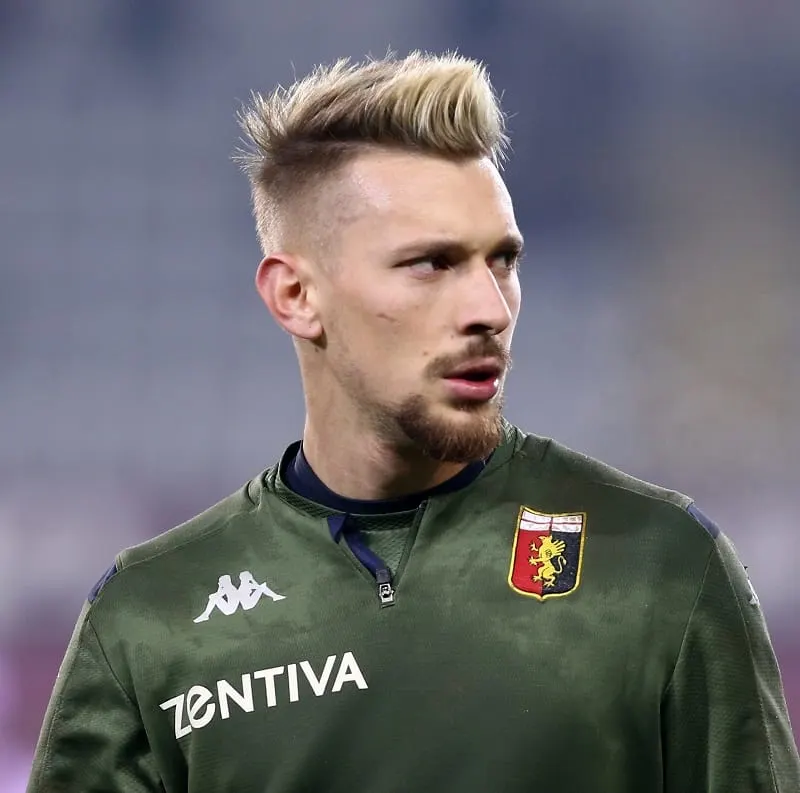 Ionut's swooped top is one popular style many men choose. Choose your level of fade, then add a bit of color to the long top to make it stand out.
# 5 Lasse Schone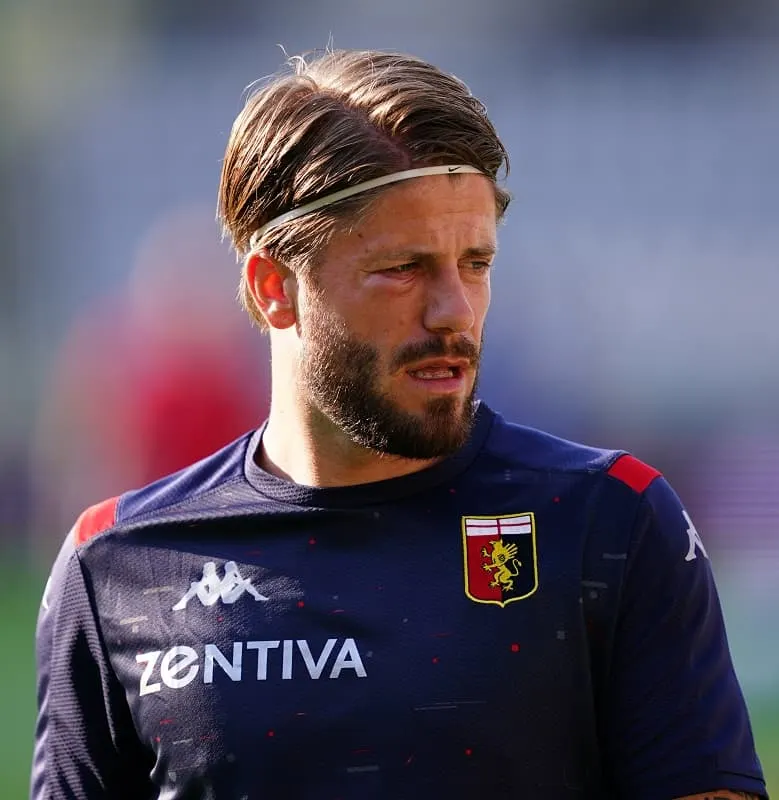 Whether you're at the gym or spending a day at the office, Lasse's side parted style is versatile enough for both. The contrasting long and short sides are smoothed down -you can even use a headband to keep locks out of your face when working out.
# 6 Gareth Bale – Whales, Real Madrid
Besides from his talents on the field Gareth Bale is well known for his captivating hairstyles.
Bale is a dirt haired man, and this seems to give him an edge because he always gets right with any style that he chooses to wear.
Although he has worn several styles over the years, he apparently prefers cuts such as quiffs and fohawks and other sport lifted styles. These styles look perfect on his face shape and give him a sharp and masculine look.
# 7 Neymar Jr. – Brazil, Barcelona
Neymar is a trendsetter in the world of football. He is very versatile and never afraid to try new haircuts.
From exaggerated Mohawks to simple undercuts he has tried them all and in most cases he always looks outstanding.
One of his most notable cut is the full disconnection he wears by keeping length and texture on the top hairs. This style works well with any type of hair provided it is well kept and a round face.
# 8 Aaron Ramsey – Whales, Arsenal
Ramsey keeps his hairstyles short to medium and they are very easy for a fan to replicate.
However, his cuts are simple, everyday or routine and so you should not expect to look extraordinary when wearing one of his many cuts but you will also not look bad. One of his best cuts is the Ivy League that he likes to wear often.
# 9 Xabi Alonso – Spain, Bayern Munich
Xabi has been on the top most level of the game for more than a decade and has featured in a couple of world cups and won several trophies at club competition and so for a player of such caliber image is important.
He has had different hair looks over the years but the style that people associate with him is his neat and unique natural hair.
The hair is short without being shaved and without too much detail and it is paired with short facial hair that has no shaping.
# 10 Marco Reus – Germany, Borussia Dortmund
Reus likes to spot unconventional hairstyles and except from a few most of them they look outstanding on him.
In his early years in the game he seemed to prefer wearing a subtle Mohawk back but things seem to have changed as he grew older.
Nowadays he mostly prefers to wear side parted styles enhanced by undercuts that are either highlighted or bleached.
# 11 Georgios Samaras – Greece, West Bromwich Albion
Samaras wears a long straight hair that is unevenly trimmed and combed straight back from his forehead. He combines this hairstyle with short sideburns that are cut straight across.
There is pretty nothing outstanding about his hairstyle, but it is also not the worst of them all. His look can be described as plain or average.
# 12 Robin Van Persie – Netherlands, Fenerbahce
Van Persie likes to wear a neat look. His hair is usually shorter on the sides and longer on the top. It is longer than a crew cut but shorter than the faux hawk.
Some gel or wax is then applied to this hairstyle to hold it in place. This style can look cute on anyone provided their barber knows how to give a longer crew cut or a shorter faux hawk.
# 13 Arturo Vidal – Chile, Bayern Munich
Arturo Vidal is popularly known for his extreme and somewhat fierce Mohawk. The Mohawk is a very common hairstyle, but Vidal's seem to breathe in some new life into this old style.
In fact, his version of the Mohawk is one of the most copied soccer haircuts as many fans try to get that Vidal look. The Vidal haircut is simple to copy, and your local barber should have no trouble giving you this cut if you want it.
# 14 Andres Guardado – Mexico, PSV Eindhoven
Andres has a curly hairstyle that he has used to create a perfect image for himself in the football world. Curly hairs may be tricky to work with, but Andres seems to have little trouble pulling a look with his hair.
However, people are divided on his curly hair because whereas some say it is natural others think that it is an old fashion perm.
His curls have managed to give him a good image, but a closer look at them and you will see that they are a total mess particularly in the top part.
# 15 Antonio Nocerino – Italy, AC Milan
Nocerino has an amazing haircut that works perfectly fine for his face shape and hair type. He has a short spiky hair at the top with the sides slightly faded.
The haircut is complemented by full facial hair that has been kept brief but flows perfectly with the shape of his face. This style is quite complicated but with a regular trip to the barber it can still be maintained.
# 16 Steven Gerrard – England, LA Galaxy
Steven Gerrard is arguably one of the greatest players to have ever graced the sport, and he is a fascinating player in many other ways.
For the more than 17 years he was at Liverpool, Gerrard never changed his hairstyle even once, but he still looked good in the cut that he wore for all those years.
Gerrard's cut is a traditional and simple scissor cut with short back and sides that work well with all types of hair.
# 17 Kyle Beckerman – USA, Real Salt Lake
What is most interesting about this Major League Soccer Star's hair is that it's mostly his natural hair, and he does a little styling.
However, he still manages to draw a lot of attention, and his natural dreads have on many occasions been thought as one of the best haircuts in world soccer.
His locks suit both his facial features and his personality and hence creating a perfect image for this soccer star.
# 18 Jack Wilshere – England, Arsenal
Despite being plagued by injuries for many years, this has not affected the haircut taste for this English soccer star.
His hair look is a slightly longer textured top and has a gradual taper on the sides and back of his head.
For those who would want to copy him Jack's style works well for thick, wavy or curly hair but it is not ideal for straight hair.
# 19 Theo Walcott – England, Arsenal
Walcott's short black hairstyles have become his trademark, and he has popularized these styles so much because they have been copied by people from different parts of the world.
In his haircuts, there is a clean line where the forehead meets the hairline, and the hair is blended in behind the ear and neck and his sideburns.
# 20 Olivier Giroud – France, Arsenal
A while back Giroud lamented to the press that they were more interested in talking about his hairstyle than his goal scoring prowess.
The press is always attracted by interesting things that people would want to see and so there must be something special about his hair.
Giroud's hair is pretty much similar to the cut that his teammate Wilshere wears. The only notable difference is that Giroud's cut has a softer disconnection between the sides and back, and more length is left on the top.
# 21 Cristiano Ronaldo – Portugal, Real Madrid
Christiano is not only one of the best footballers in the current generation but also one of the best the world has ever seen and with such reputation it is only fair for him to wear eye-catching haircuts.
He does not disappoint when it comes to hairstyles as he almost never gets anything wrong. Ronaldo seems to prefer scissor cuts that are very tight and close to the head and with no taper.
He also likes to have a disconnection between the top and back and side hair.
# 22 Zlatan Ibrahimovic – Sweeden, PSG
Zlatan is one of the few players that have managed to pull the man bun look almost flawlessly. His epic man bun has been a topic of discussion ever since he started wearing it a couple of years ago.
This style may seem very simple to wear and maintain, but it is way harder than it looks. The appearance of a man bun will depend on the type of hair, its length and also how you pull it together.
# 23 Andrea Pirlo – Italy, New York City FC
Andrea Pirlo wears a look that every outdoor man should think of trying out at some point as it is perfect for this environment. Soccer is an outdoor game, and so his looks are suitable for the sport.
Pirlo's hair is medium length and layered to make it look very thick, and it has a slight undercut beneath. He pairs this hairstyle with the full beard on his face for an eye-catching look.
# 24 Stephan El Shaarawy – Italy, Monaco
El Shaarawy's haircut is very popular with his fans and other players. It has even been nicknamed "The Pharaoh" due to the unique head shape that the style creates.
His haircut is a modified Mohawk with the crest being longer at the head crown to elongate the outline. Due to the stiffened crest some nice styling gel is required to hold it in position.
# 25 Marouane Fellaini – Belgium, Manchester United
Marouane Fellaini has a distinct look thanks to his hair, and you would quickly spot him anywhere without even looking at his face.
He wears an afro that most stylist and hair experts describe as natural because he does not need to use any products to hold it in place.
Fellaini has a naturally thick and curly hair that makes it possible for him to wear an afro with little hassle.
# 26 Jonjo Shelvey – England, Swansea
Although there is no trace of any hair on Jonjo Shelvey's head, it still qualifies to be called a haircut since it has all the characteristics of one.
Shelvey wears a bald look that somewhat looks good on him. This is probably because people have got used to him looking that way. However, this haircut may be ideal for balding men or those with a receding hairline.
# 27 David De Gea – Spain, Manchester United
The Manchester United stopper wears a faux hawk based on the Mohawk with the main difference being that its sides are not shaved clean as is the case in a Mohawk.
The sides are cut short and a longer strip of hair left on the top section. The top part is then waxed or gelled to stand up from the head.
De Gea's faux hawk is unique because he extends it an inch frontwards before curving it upwards. It is suitable for people with round or oval shaped faces.
# 28 Mario Balotelli – Italy, AC Milan
If he is not causing trouble on the pitch, Balotelli will still give people something to talk about with his haircuts.
Balotelli is one of the most if not the most extroverted player in world football and he is not afraid to experiment with new styles.
One of his most impressive cuts involves an Iroquois haircut with a Maori-style pattern on the sides of his head. With this style, the soccer star showed how exquisite short hair can look if you are a little creative.
# 29 Sergio Ramos – Spain, Real Madrid
Ramos wears a casual but soft side part that gives him a distinctive look. He has some streaked locks that rise from his forehead and a dark blonde base color.
The hair is lightened skillfully and rises upwards in a non-curly spiky manner. The spikes are medium in length in the top section, but they are trimmed close on the back and sides to give him a perfect look that conforms to his long narrow face.
# 30 Angel Di Maria – Argentina, PSG
Di Maria wears a faux hawk style but it is slightly different from what his former teammate De Gea has.
The faux hawk on Di Maria's head is less detailed at the top section, and he also appears to leave less hair on the top part unlike other players with a similar haircut.
He has a side taper on the top that makes the crest appear more triangular. Due to its uniqueness it may be difficult to replicate but if your barber can get it right, you will look as good as Di Maria if not better.
# 31 Miguel Veloso – Portugal, FC Dynamo Kyiv
Miguel Veloso's haircut is one of the most interesting soccer haircuts, and it can be seen on many men today. In his haircut, the sides are buzz cut very close so that they blend in with the facial hairs.
The top part that is probably the focal point of this cut is razor cut to give it an uneven length and to add some texture.
Top hairs are between one and three inches long and hence making it possible to sweep them to one side.
# 32 Mats Hummels – Germany, Borussia Dortmund
In the style than Hummels wears the front hairs are styled out of the face to give him a distinctive look.
His cut allows for versatility as he can play around with different styles from the same cut. He can spot different lengths, undercuts, spikes or gel styling.
Versatility is the main thing that makes this cut interesting, and if you get it right then, you will enjoy having it due to the ease of changing styles without having to visit the salon.
# 33 Wesley Sneijder – Netherlands, Galatasaray
Wesley Sneijder spots a buzz cut that is one of the cuts that are known to deal well with a receding hairline. The Buzz cut is one of the simplest hair styles to wear, and it requires almost zero maintenance.
Since it is mostly worn by people with a receding hairline, the top of the hair has very little hair, and so the rest of the head is shaved very close to try and match the size of the top hair.
# 34 Sergio Kun Aguero – Argentina, Manchester City
Aguero always seems to find the net somehow and the same can also be said with his haircuts as he always gets a cut that complements his appearance. However, he has a thing for short or faded sides and a longer top.
More often than not he tries a faux hawk with a side part or the disconnection. His version of faux looks good on him because he has a round face and his hair is medium thick.
# 35 Glen Johnson – England, Stoke City
A few years ago Glen Johnson was more popularly known for the neat cornrows that he liked to wear but he seems to have changed his tastes to something different. Nowadays he wears very short uniform fade hair.
In this simple cut, the hair is cut short and faded to blend in with the facial hairs. Due to his complexion and his dark hair this cut makes him look amazing.
Idea # 36
Idea # 37
Idea # 38
Idea # 39
Idea # 40
Idea # 41
Idea # 42
Idea # 43
Idea # 44
Idea # 45
Idea # 46
Idea # 47
Idea # 48
Idea # 49
Idea # 50
Idea # 51
Idea # 52
Idea # 53
Idea # 54
Idea # 55
Idea # 56
Idea # 57
Idea # 58
Idea # 59
Idea # 60
Idea # 61
Idea # 62
Idea # 63
Idea # 64
Idea # 65
Idea # 66
Idea # 67
Idea # 68
Idea # 69
Idea # 70
Idea # 71
Idea # 72
Idea # 73
Idea # 74
Idea # 75
Idea # 76
Idea # 77
Idea # 78
Idea # 79
Idea # 80
Idea # 81
Idea # 82
Idea # 83
Idea # 84
Idea # 85
Soccer players are always coming up with new hairstyles and in most cases, they are a source of inspiration for people looking for unique haircuts.
Their line of work allows them to wear any haircut, and so they are not afraid to experiment with new cuts.
From the above soccer player haircuts, there is definitely something that will suit your hair type and face shape, and so you should try it out sometime.