Thick hairs have both merits and demerits, and some men will find it tough to style this type of locks. However, any barber and hairstylist will tell you that having this sort of hair is a blessing as there are so many things you can do with it.
Thick hair is very easy to style, and once you get a good cut, you will hardly spend five minutes on it when styling. The problem for most men comes in finding a good hairstyle for their mane.
If you are such a man, then this list will be very helpful as it will provide you with 90 hairstyles for thick hair.
The good thing is that from the 90 styles you can come up with even more variations, and so you will never have trouble finding the right hairstyle for your thick hair.
# 1 Comb Over for Thick Hair
When having thick hair, you don't want an overly voluminous hairstyle but a look that shows off the thickness and healthiness of your strands.
A messy hairdo with a comb-over will be so damn sexy.
# 2 Wavy Thick Hair
If you want a classic and professional appearance that will make you look sharp at the office, a shorter cut on the sides will gorgeously accompany the wavy longer top.
# 3 Curly Thick Hair
When you want volume, this is the perfect way to get it! Go for a medium-long hairstyle that will draw all the attention on the thick curly hair.
This way, you will have movement, and the ringlets will beautifully form.
# 4 Long Wavy Thick Hair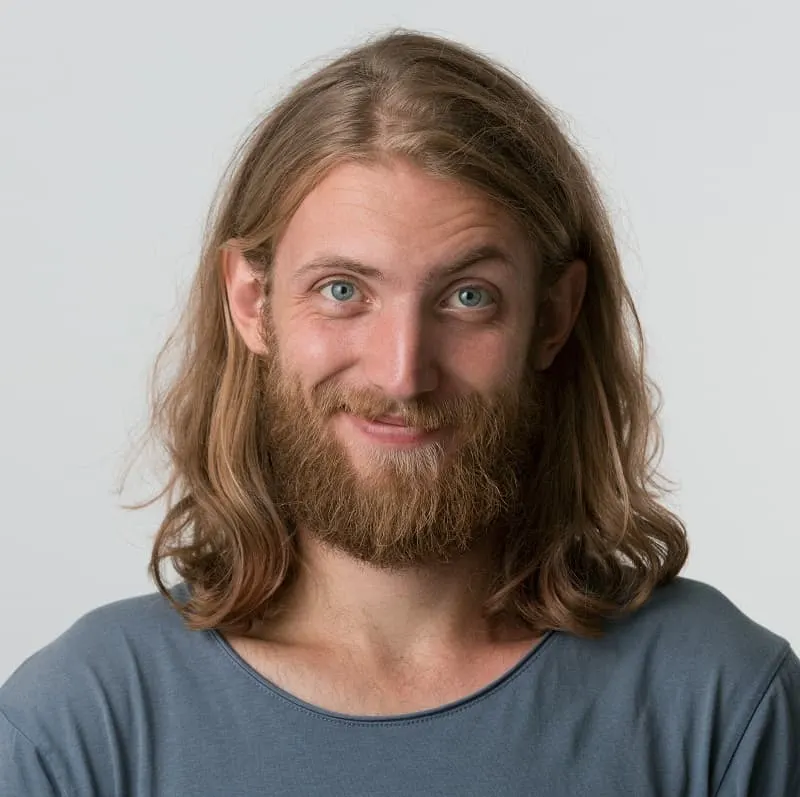 Depending on your personality, you can either choose a short sport hairstyle or a long hipster look.
Those thick waves make a great combination with a medium rich beard.
# 5 Thick Afro Hair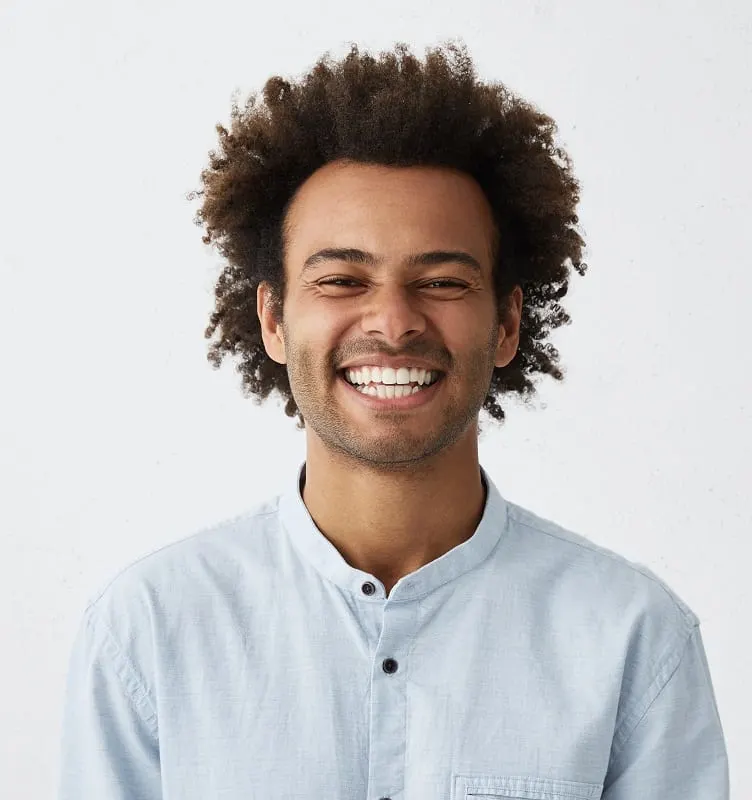 Afro hair is so different from white people's hair and it requires special attention and care.
To make your coils look well defined, use products designed for your hair type and you'll get a healthy mane.
# 6 Thick Hairstyle for Teens
Teens always want attention and the hairstyle plays an important part in their look.
Instead of pulling off the fringe on one side, start lower and do the same with the long sideburns.
# 7 Thick Asian Hairstyle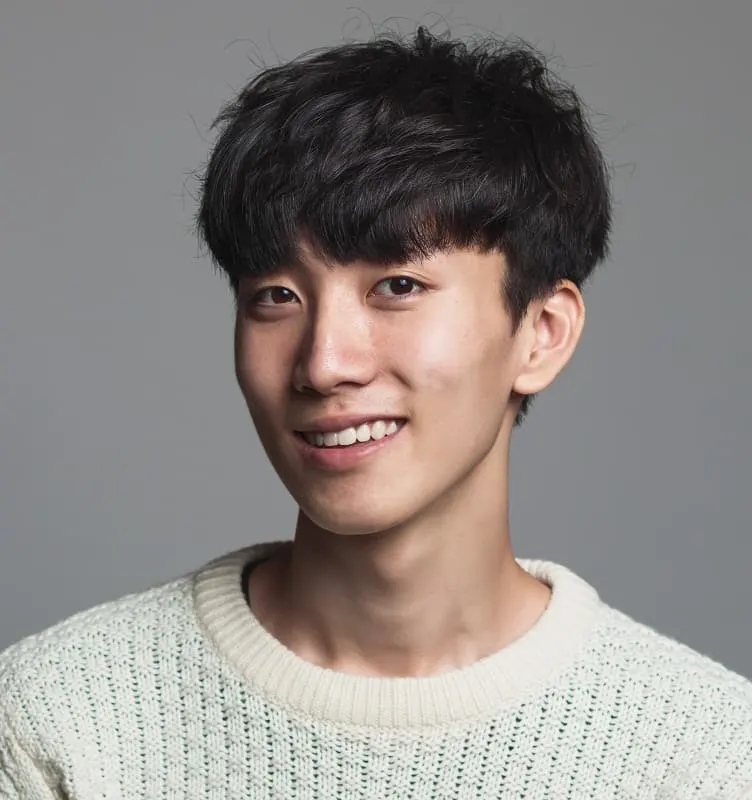 Asian band BTS is a real sensation worldwide, and they managed to make their K-Pop two-block haircut so popular.
So if you want to look like your idols, this hairstyle will provide tons of styling options.
# 8 Wavy Hair with Undercut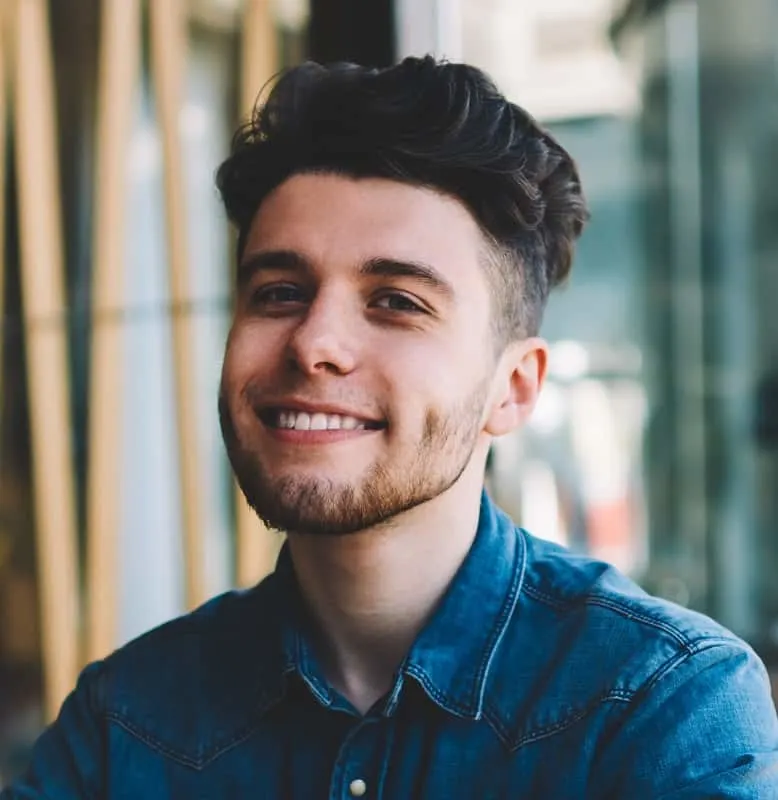 Undercuts are among men's favorite even if they have thin or thick hair.
Sport an undercut on sides and back and keep the top long and wavy, combed back.
# 9 High Top with a Fade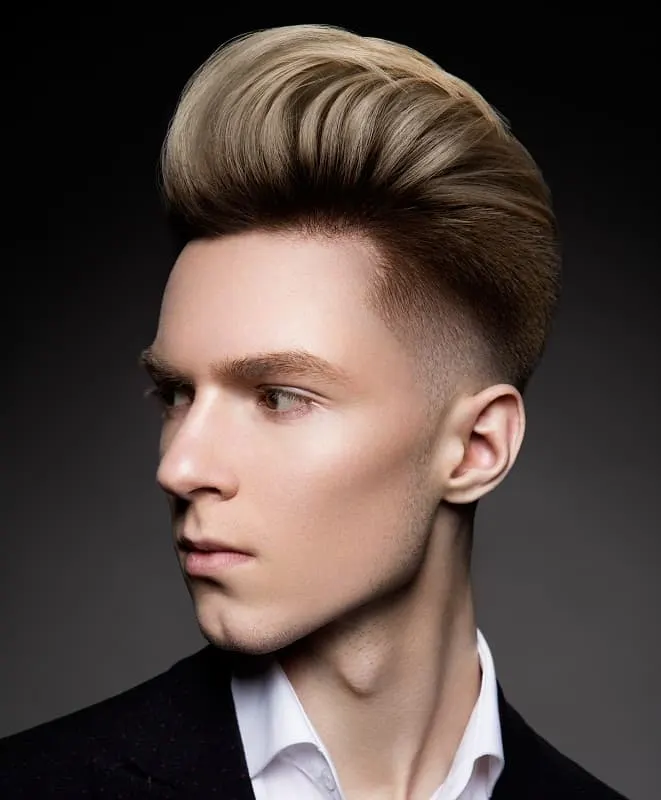 A temple fade will mesmerizingly highlight that thick top hair.
Get a brown, silver-blonde ombre and build a hight top. Make it look as smooth as possible.
# 10 Messy Hairdo for Thick Hair
If you are the kind of guy that wants a low-maintenance hairstyle, you are in the right place.
When having wavy hair, get a short trim with a longer top and just give that quiff a tousle before you get out.
# 11 Short Elegant Curls
Curls look fabulous on any hair when styled correctly, but somehow they seem to work much better with thick hairs.
Although most men with a thick and curly mane like to keep it medium length or long you can also look fantastic with a short and neat curly hair.
In this style, the hair is shaved uniformly to one or one and a half inches then some product is used to make the curls more detailed and firm. A thin strip on the sides and back is then faded to finish this awesome look.
# 12 Neat Pomp with A Deep Sideline
This style is as neat as they get, and just by looking at it you will know that the barber put a lot of work into getting this cut right.
However, it's a pretty simple hairstyle that has been made more detailed with the broad line on the side and the neatly styled pomp at the top.
The pomp looks particularly good because the thickness of the hair makes it hold in place better. Sides below the part line should be faded to complete this style.
# 13 Spiky Hawk with Bald Sides
Men are fascinated with spiky strands especially those that like to wear casual hairstyles and so this one will draw the attention of most men.
In this cut, the medium length and spiky hairs are left on the middle part of the head while the sides near the Mohawk like center hair are closely shaved. However, as you move further from the spiky middle locks, the hairs are rapidly reduced to a bald level.
# 14 Extra High and Straight Top
This cut requires some skill, experience and a vision of the result to get it right as it involves very straight angles that are not easy to shave.
The straight lines on the face and the extra high and straight top are what makes this cut more attractive. The barber must have spent many minutes to get it right.
However, it might be tricky to maintain this cut because a lot of combing will be necessary each morning.
# 15 The Classy Man Look
It's all about class in this hairstyle because everything from the side parting to how the mane is slicked-back is meant to give a man a touch of class.
And to make sure that the classy look intended is achieved the hairstyle is paired with a nicely trimmed beard. To wear this style you should start with a medium size trimmed strands with a deep side part.
You should then use a smoothening product on the top hair and slick them back. The locks below the baseline created by the side part should then be combed back.
# 16 Medium Long Spiky Quiff
Men with round, oval and square face shapes look good with a quiff but to make things even much better, the quiff should be spiked for thick hair.
The medium-length quiff at the top of the head is very attractive, and the spikes make it more detailed because sometimes it can be a little dull. The sides should then be faded to blend in with the facial hairs. It is also a good idea to make the top hairs textured.
# 17 Side Sweep with a Side Braid
A nice side swept front hair will look more elegant with the introduction of a simple side braid. The style starts with a trimmed top section and closely shaved sides.
Longer top hairs are then given a side part to create a base hair. The base hair should then be weaved into a single braid that stretches to the crown.
Some of the base hairs will not be long enough to be weaved into the braid, and so you should blend them in with the short sides.
# 18 Textured Curly Top
Thick and curly strands hold shape well and so when choosing a haircut you should go for one with neat edges like this one.
With this style, all you will need to do is texture the longer curly top with pomade or wax for a natural everyday look.
To make styling even much easier, you should keep the sides short but make sure that they are not shaved too close to exposing the scalp as this will ruin the look.
# 19 Spiky Perfection
All types of locks can be textured and made spiky, but naturally thick hair has an edge over the rest because it holds the spikes much better than other hair types even without using any products.
In this cut, the spiky mane at the top is combined with well shaped facial hairs that go very well with the hairstyle.
# 20 Simple but Elegant Thick Hair
The beauty of this hairstyle is a result of only two things that are the thickness of the hair and the skills of the barber.
This style fits perfectly on men with round and oval face shape and the thicker the mane, the better they will look because it will be easier to get the styling right.
The hairstyle also proves that you can never go wrong if you choose a skilled and experienced barber to work on your strands.
# 21 Perfectly Messy Cut
There are many ways to get a messy look and just like this cut most of them involve clean shaved sides and back to ensure that all the attention remains at the top locks.
Although the cut in this hairstyle is similar to other messy haircuts the styling is perhaps what makes it distinct and unique.
What is more interesting is that only pomade wax is used to achieve this gorgeous look, and no blow drying is required. A clean shaved face also adds some value to this hairstyle.
# 22 The Eclipse Cut
This hairstyle is for confident men who are willing to go the extra mile and experiment with their mane.
However, this cut is still not as extreme as others, and it involves thick hair at the top that is trimmed to about three inches, styled and slightly swept to the side.
The sides are then faded, but what gives it uniqueness is the distinct line introduced on one side just a few inches before the ear.
It looks like a parting line but it is created in an area with little hair and so the line itself is the center of attraction and not what it does to the hair.
# 23 Long Bangs Styled Backwards
Most men are used to styling their long bangs forward, but this is not the only way you can make them look good. For a unique look, you can have the long bangs styled backward to cover the head to the crown.
However, to get the best out of this style, you should leave the bangs longer than you would do when you intend to style them forward. Undercuts also combine well with this style, and so having them would be an added advantage for you.
# 24 Clean Blurry Cut
Simplicity adds elegance to haircuts, and so you do not always have to exaggerate cuts to look good. In this thick hairstyle for men, the gel applied to finish the style does most of the work because the cut is very straightforward.
The sides and back of this cut are faded to give a blurry appearance, and a longer top is maintained. Styling gel is then applied to the top bangs and the hairs combed frontwards to finish a simple but elegant hairstyle.
# 25 The Disconnected Messy Top
This is another amazing hairstyle where the gel or any other product does most of the work. In this messy hairstyle, the top is longer than what you would find in medium and short messy hairstyles.
The front locks should be long enough to cover the forehead just slightly. You should then style the hair forward using a quality gel or pomade.
For the cut, you should create a disconnection with the sides and back by closely shaving these areas and also with a clean shaved face.
# 26 Skin tapered and Blowdry
Tapering the hair is an excellent alternative for men who do not wish to cut their mane short either on the side or back to get a haircut.
In this cut, a longer top is maintained and then the strands are gradually tapered towards the neck and ears to create amazing layers of hair. The hair should then be blow-dried and finished with good quality pomade.
# 27 All Grown Out
Letting your thick mane grow out naturally will give you many options when it comes to styling. As your hair grows to a medium length, you should also keep a big beard so that you can be able to wear the all grown out style.
This style needs almost no cut at all except for slight trimming to level up the hair. You can then style the locks by side parting and pushing a portion of them to one side.
# 28 The Winter Tapers
It's all about the layers in this cut. Some skillful tapering is done on the hair to give it the distinct layers and to make them more visible. Undercuts are also done on the sides and the back of the head to finish the look.
However, to wear the winter tapers the most important part is tapering and so you should choose a barber that is skilled at this. You can also add some color to the top layers and style them frontwards to finish the look.
# 29 Modern Textured Tops
The modern texture top haircut involves a messy and spiky top that is textured with pomade and styled frontwards. However, it should be styled with the fingers so that the messy and spiky look of the mane can be maintained.
The sides should be short but not too short, and so you can even have them scissor trimmed to match the level of your short facial hairs.
# 30 The Combover with a Beard
For this hairstyle, the only thing that you will need is a comb and a quality hair product to hold the style and to maintain good hair health because everything else is natural.
This style is worn on a medium size hair and fully grown beard. The hair is then combed back after the application of the gel or pomade.
It looks particularly attractive on men whose thick hair is changing color due to age but to get the same effect you can dye your hair with one or a few colors.
# 31 Laid-Back Look
Medium length hairstyles for thick bangs look good on men especially those that have wavy hair that can be back-swept. In this style, the wavy mane is scissor trimmed on the sides and the back and the top left medium in length.
The longer hair is then back-swept to complete the laid back look. A laid back look would not be complete without a beard and so to wear this look you should have a short trimmed beard.
# 32 Long Blonde Locks and a Beard
If you prefer to keep a long thick hair, then this is the right style for you. In this style, the mane is very natural and no cut is needed at all, and you can let it flow freely in its natural locks or pull it together in a man bun.
However, it looks best if the hair is blonde and so some color might be necessary if your mane is not naturally blonde.
A bearded face goes well with a long hair and so it is a good idea to leave your beard unshaved for a while to wear this style.
# 33 The Polished Curly Hair
This hairstyle involves almost no styling at all because the hairs' natural curls are attractive enough.
The curls should be uniform throughout the head, and you should also use some product to make the curls hold. Pair this with neat facial hairs and you have an all natural curly hairstyle.
# 34 Front Waves with a Beard
A nicely styled wavy hair looks fantastic when paired with a beard. This style keeps a medium size wavy mane, and the front locks are styled frontwards to cover the forehead.
The other locks are left to flow naturally with some flowing towards the ear and the rest towards the back. Keeping a beard is an integral part of this style, and so it cannot be overlooked.
# 35 Scruffy Waves and Beard
Waves make a perfect hair for men, but they look particularly more attractive on thick mane as they are easier to style, and they also hold for longer. I
n this style, the scruffy waves are trimmed to medium length then combed back. Brushing the hair back helps to expose the facial hairs and most importantly the big and neat beard.
The combination between scruffy locks and a beard works very well, and it is also a simple everyday look that a man with thick and wavy hair can wear.
# 36 Side Parted Grooming Hairstyles
This style is for thick haired gentlemen who value style over anything else as it is a very classy cut. In this style, the mane is side parted, and the sides double faded with more strands left near the parting line.
The longer and voluminous top hairs are then well groomed and slicked back. It is necessary to use a small amount of smoothing product and something to give your bangs a shine before combing it back.
Neat medium size facial hairs also complements this style thanks to the disconnection created by the faded sides.
# 37 Elongated Spiky Top with a Beard
Men with thick hair are probably the happiest with their locks since they can try anything they can think of with it.
The elongated spiky top is an example of an interesting hairstyle that looks unique when worn on thick hair. Although the top is high, the sides are not closely shaved as one would expect like in other similar styles.
The sides and back are just trimmed and joined to the fully grown facial hairs. The style looks best on thick strands with some colors like brown or a red tone.
# 38 The Thick Slicked-Back Hawk
This hairstyle spices up the faux hawk and transforms it into a style that even a man who does not like it would wear with pride.
Although it is very similar to the faux hawk, the thick mane seems to make it quite distinct, and some people may have trouble figuring this style out.
It consists of sides that are shaved to a uniform level with the facial hairs while a thick portion of locks is left in the middle. The thick hair at the center of the head is then slicked back to complete an awesome hairstyle.
# 39 Beckham's Short Slick-Back
Men of all ages have copied the David Beckham's short slick-back style. This is probably because besides from being very sleek it is also a very easy style to wear and the cut is not very complicated.
To style your mane all you need to do is use a quality root boost spray in case your hair is straight. For the cut, the sides and back should be clipped with the machine on grade two while number one should be used along the hairline.
To finish the look, the elongated top part should be trimmed square and slicked back.
# 40 Textured Wavy Top with Facial Hairs
Adding texture to your hair makes it look firmer than normal strands. And so if it is already dark and thick, it will be more attractive.
The cut in this style is pretty simple because the mane is trimmed to uniform length that also matches the level of the facial hairs.
After the cut hair is then given some texture and styled towards the forehead for an eye-catching look. This style can be worn to the beach or when chilling out with friends.
# 41 Short and Shaggy Top
Short and shaggy thick hair is also stylish if you get the cut right. In this cut, the sides and back are shaved very closely while the shaggy mane is left at the top section.
No styling is needed for this cut especially when worn by African-Americans because the texture of their hair is enough to give them the rugged appearance.
# 42 Spiky Long Bangs
Bangs make the hair appear voluminous and more appealing, but you can make them look even better by leaving them longer and spiky. The spiky bangs should be long enough to cover your forehead when styled frontwards.
For this cut, the sides should be trimmed short and faded towards the neck and on the sides. This style also happens to be one of the most common hairstyles for the thick mane.
# 43 Messy with a Side Sweep
This thick hairstyle for men incorporates a long messy top that is side swept and a slight side parting. The mane on the side part (just below it) is then scissor trimmed and combed back.
However, the center of attraction in this style is the long side swept wavy hair at the top. The wavy strands should be long enough to cover the ear when side swept and a man will look better in this style with a cleanly shaved face because all the attention should be focused on the gorgeous top locks.
# 44 Half Mohawk with Clean Shaved Sides
A Mohawk is a very common hairstyle with men, but you do not have to go with the norm and shave the traditional Mohawk as you can make yours unique by taking advantage of your thick mane.
In this cut, the Mohawk does not go all the way to the back but instead the long hair ends up just below the crown. The mane is then combed back, and the sides and a small portion at the back cleanly shaved to complete the look.
# 45 Tucked in High Top
High Tops make good haircuts especially for men with smaller round or oval face that would want to make this physical trait less visible.
In this particular style, the high and thick top is styled to look like it is being tucked in so as to give it some extra height. The sides are then shaved short with a clipper to complete the hairstyle.
Idea # 46
Idea # 47
Idea # 48
Idea # 49
Idea # 50
Idea # 51
Idea # 52
Idea # 53
Idea # 54
Idea # 55
Idea # 56
Idea # 57
Idea # 58
Idea # 59
Idea # 60
Idea # 61
Idea # 62
Idea # 63
Idea # 64
Idea # 65
Idea # 66
Idea # 67
Idea # 68
Idea # 69
Idea # 70
Idea # 71
Idea # 72
Idea # 73
Idea # 74
Idea # 75
Idea # 76
Idea # 77
Idea # 78
Idea # 79
Idea # 80
Idea # 81
Idea # 82
Idea # 83
Idea # 84
Idea # 85
Idea # 86
Idea # 87
Idea # 88
Idea # 89
Idea # 90
Thick hair offers men a great advantage as it is easier to work with and it also looks good in any style you wear whether you keep it short or long.
However, other things like face shape and skin tone also have to be considered when choosing a hairstyle for the thick mane.
And so you should take some time to go through the 90 amazing hairstyles for thick hair above and find one that best suits you because there is definitely one or a couple of them that will make you look outstanding.
In conclusion, you should always remember to pair your hair with clothes and accessories that complement the style for a perfect man look.