Ever since his breakout role in High School Musical girls has been going mad for Zac Efron. He is a naturally sexy man who has also been blessed with thick, glossy hair. He likes to change his look often.
Below are the best of Zac Efron hairstyles that you can try for yourself.
# 1 Rising Fame
Zac is lucky enough to have the type of facial structure that allows him to wear almost any hairstyle. In this snap of him on the red carpet, he is wearing his hair short on the sides with a quiff of curled locks in front.
# 2 Revival Haircut
Longer hairstyles, like the one he is sporting here, were popular in the 1960's and are making a comeback. His locks were layered in front to frame the face while the hair at the back brushes his collar.
# 3 Vintage Lift
In this shot of Zac from the movie Hairspray, he is sporting a vintage style haircut that has short sides, height in front and a small curl that falls onto the brow.
# 4 Wet Look
For this look, his locks have been scissor cut on top to create texture and dimension and then styled into a wet look do.
# 5 Zac's Bed Head Look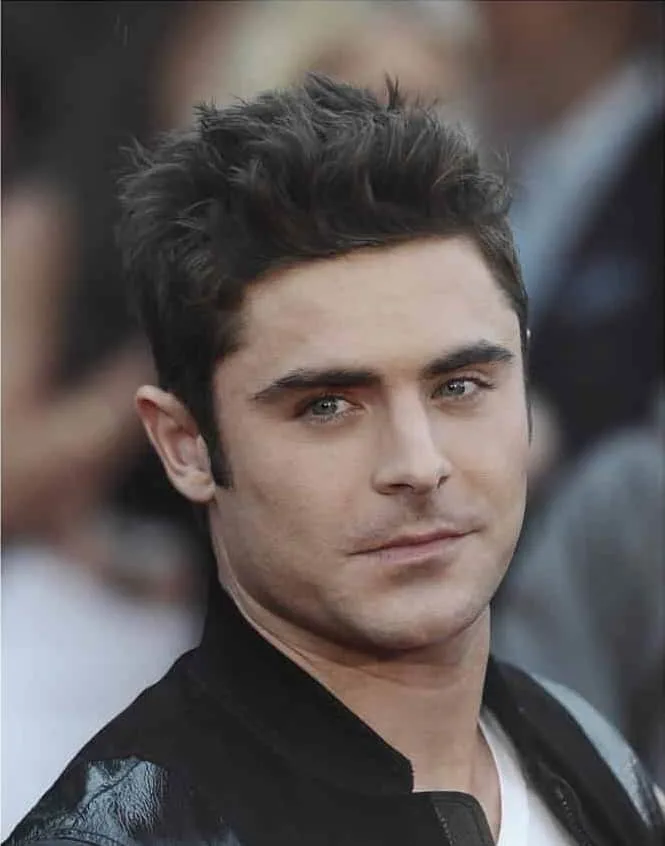 In this picture, Zac is wearing his hair trimmed short on the sides with more length on top. The upper locks have been styled to have a messy bedhead feel.
# 6 Super Slick
Here we can see that his hair was grown to a medium length and cut to have the most volume on top. On the side, there is a disconnected parting and on top, the locks were styled in loose wet look.
# 7 On Trend
In this shot, Zac is wearing his hair in a lighter shade with a brushed up fringe, short sides, and a high side parting.
# 8 High Expectations
Zac Efron favors hairstyles that provide lift in front. In this style the sides are short and the upper locks have been brushed together to form a neat peak.
# 9 School Boy Charm
In this look, he is wearing his hair short and brushed down on the sides while the upper locks are slightly longer and have been brushed to fall forward.
# 10 Zac's Comb Over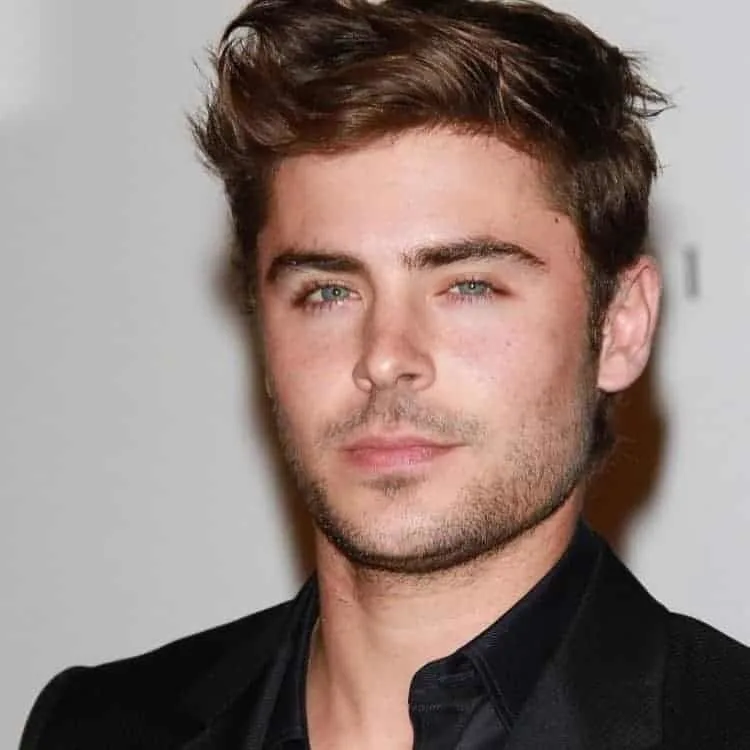 In this picture, Zac has a low disconnected side parting on the left and he has combed over the longer locks to fall to the right. The hair was not slicked down so it has a natural looking lift.
# 11 Blonde Top Locks
Here he is sporting a trendy hairstyle – the sides have a fade out undercut while the upper locks are much longer. This portion of the hair was dyed honey butter blonde and slicked back.
# 12 Prep Style
Here Zac Efron is sporting a relaxed look – there is a high parting and the longer hair in the upper section has been brushed over, creating a wave over his forehead.
# 13 Swept Up
In another throwback look, he is wearing his locks long on top with some length along the sides as well. These sides have been brushed back and the top locks have been styled to have volume and a wave in the front.
# 14 A Gentle Wave
Here, Zac's hair has been styled in a wet look fashion. The front locks have been brushed over to the side, creating a wave above the forehead and the sides were brushed down. He is sporting light brown highlights within his naturally dark hair.
# 15 Up And Away
In this look, his sides have been trimmed short with the clippers while the upper locks have been left longer. The hair over the forehead was dyed blonde and brushed up with a flyaway texture.
# 16 Boy Next Door
In this "boy next door" look Zac is wearing his hair at a medium length and the edges have been shaped to frame his face. The locks have been brushed forward with a few strands brushing his eyebrows.
# 17 Beach Boy
This laid back surfer look hairstyle has been achieved by giving his hair a choppy texturized cut and coloring it in beach blonde.
# 18 Zac The Gentleman
Zac looks great in this dapper do! Here we can see how the hair has been separated along a high parting with the hair brushed down on the left. On the right side, the hair has been brushed up and then back creating height in front.
# 19 Unstructured Style
Here he proves again that smart styles don't necessarily have to be boring. He's wearing his locks with short sides, some flair near the crown and his trademark pompadour style lift in front.
# 20 Bold Brush Cut
In this look, Zac is wearing his locks in a brush cut with short sides. The upper hair is just long enough to be smoothed flat.
# 21 Spiky Edges
Here the upper locks are being worn brushed forward from the crown and have been styled up in the front. The product has been used to give these edges a slightly spiky finish.
# 22 Relaxed Zac
In this photo we see Zac with a laid back look – he is wearing a disconnected parting with his sides brushed back and lots of texture and volume on top.
# 23 Height Of Fashion
In this look, his hair has been neatly shaped around his face and the sides have been trimmed short. The upper locks have been combed into a wave over the forehead which adds height.
# 24 Sexy Flip
In this picture, Zac is wearing his long upper locks in a semi-wet look. A wax has been used to make thicker strands and these have been allowed to fall to the front and sides.
# 25 Prince Of Hearts
This top view allows us to see how this look was created. The upper locks have been combed together, while a section in front has been brushed up and over them. The short sides are separated from the upper locks with a low side parting.
# 26 Grunge-Inspired
This picture shows a much younger Zac sporting a grunge-inspired hairstyle. Here the hair has been grown to a medium-long length and brushed over in front.
# 27 Neat Neck Shaping
Here Zac's hair gradually tapers shorter towards the back and has been cut into a squared off shape above the neck. The hair in front has a slight wave and has been combed back neatly.
# 28 Tousled Fun
In this picture his hair is separated by a disconnected parting and the hair on the right has been brushed up all the way to the crown. The hair on the left has been tousled to create matching texture.
# 29 Lush Locks
Zac really knows how to rock tousled, bed head looks! In this one, we can see that sides are slightly shorter while the upper locks were styled in the bed head fashion.
# 30 Smooth And Sexy
In this red carpet shot, Zac is wearing his hair with a deep brush over and the locks have been smoothed flat with a product.
# 31 Spiky Fringe
Spiky hairdos may be quite hard to wear and maintain as they require the use of high-quality products, but Zac Efron seems to have little trouble with them.
The spiky fringe that he occasionally wears involves a couple of inches at the top while the sides and back are scissor trimmed to about an inch or less.
His type of mane and oval face shape are what make him look fantastic in this kind of haircuts.
# 32 Partly Swept
In this cut, he keeps a medium length that flows up to the neck level. Locks are then neatly trimmed to a uniform length, and apart from this, there is probably no other cuts done at all.
And the beauty of this hairdo comes from the way he styles the strands. He brings a portion of it forward to cover his face and then partly sweeps it to the sides away from his eyes.
# 33 Chaotic Waves
Chaotic waves are beautiful when a man wants to wear a simple and somewhat rebellious look but still maintaining a degree of decency. Here the chaotic waves are kept at the top while the rest of the hairs are tapered.
Waves are roughly pushed back with the fingers to maintain the chaotic look, and the actor looks good in this style especially given his hair color and texture.
# 34 The Quiff
Over the years, Zac has proven that he can rock anything that he wants and look outstanding in it.
The quiff is a classic look that men wear when they want to portray a gentleman image, and it seems to work pretty well for this superstar.
However, he makes his distinct by keeping locks on the sides and back longer than what you would find in other variations of the quiff. The dark black hair color also makes him look elegant.
# 35 Dicaprio Style
Leonardo Dicaprio is a very fashionable man, and so it's not surprising that even celebrities like Efron would imitate one of his signature hairstyles.
For the Dicaprio look, he maintains long wavy bangs with trimmed sides and back. They are then given a center part, and the two halves swept to the sides in opposite directions.
# 36 Brown Locks
Coloring your hair is one of the easiest ways to wear an incredible style and the star proves it with his magnificent brown locks.
And he also shows that locks do not always have to be very long for them to look good when colored. He keeps his brown mane short and styles it with a slight side part and side sweeping.
# 37 Peaked Bangs
The actor has some cute bangs and apart from making him look very attractive they also offer him a lot of versatility when it comes to styling his mane.
In this particular hairdo, the bangs are neatly combed forward to create a wavy look. They converge at the top to form an incredible peak that looks like a short pompadour.
# 38 Swept Back
Swept back hairdos are very simple, but the best thing is that they work well for most men, and all that is needed is a proper length and the use of some products.
Efron's swept back cut is unique since unlike in other styles he does not push all the hair back. Instead of this, he first parts the hair on the side to create two portions and so when swept back some of the hairs will flow diagonally for a perfect finish.
# 39 Curly Tips
The curly tip is a short elongated haircut that has razored flicks, and it is perhaps one this superstar's favorite cuts or, at least, was in his younger years.
He seems to have a thing for styles that cover his forehead, and this is regardless of the fact that he does not have a protruding or elongated forehead. In this do, what makes the razored flicks adorable is that the tips are made curly.
# 40 Elongated Fringe
A fringe can make a man look stylish and modern if done correctly and most of the times this does not take much to achieve.
Like in this style all that is needed is to make it elongated by leaving some extra length at the top. The wavy hair also adds some beauty to the cut, but the most important thing is to style the fringe well.
# 41 Official Look
Zac Efron can rock a formal look better than most other celebrities, and this is because he has some fine strands that are easy to work with.
Here he leaves some length at the top with the sides tapered. The top is given a side part, and partly side swept but what makes him look even more attractive is that the hair is generously gelled.
# 42 Pomp It
The pompadour is a fabulous haircut, and it is probably one of those styles that a man must try at some point in life, and so the actor also had one a couple of years ago.
However, he always likes to do things in a unique way and so his pompadour was not the same old classic one. Instead, he got an extra height and made it a little bit messy at the top.
# 43 Neat & Smart
A perfect gentleman needs to look bright and sharp with good hairstyles. Superstar knows how to wear his hair for this look.
He keeps about three inches of hair throughout and it is slicked back on the sides. The top is then styled up for some extra height to finish the look.
# 44 Short & Textured
This is an amazing scissor work and the short textured bangs look great on his oval face shape.
His hair is also wavy, and the neatly trimmed sides help to make the textured top look more detailed. This style is very suitable for formal or professional looks.
# 45 The Elvis Presley Style
Apart from being one of the greatest musical acts the world had ever seen, Elvis was also a fashion guru and a trendsetter especially when it came to hairstyles.
His classic haircuts are still being replicated decades after his death, and this lovely Zac Efron hair is Elvis inspired. It is a classic wavy slick back with a high top and a single short curly lock that falls to the forehead.
# 46 Top Pony Tail
At some point in his career, the actor kept a very long hair that offered him the opportunity to try out different styles that he had never worn before.
His mane was about shoulder length, and the ponytail is one of the most fantastic hairdos that he wore.
However, his was a simple top ponytail that involved pulling together the hairs on the crown only. The locks on the sides and back were left to flow naturally towards the back.
# 47 Long Side Sweep
It is another interesting hairdo that he had with his long hair but in this case, it was more of a medium length as the locks were only neck length.
It is a simple style that primarily involves trimming strands to a uniform length, creating a shallow side part and then finishing with the side sweep.
The long side swept locks cover a part of his forehead nicely. And so this style can be very suitable for men who want to cover an elongated forehead.
# 48 Short Cut
Zac rocks this short military cut like a natural, and he looks very elegant. The mane is about an inch at the top, and the sides are buzzed.
Due to his naturally wavy hair, the short cut at the top looks nice because the waves create a very attractive pattern.
He does not keep any facial hairs, and so nothing will draw attention away from his hair no matter how short he cuts it.
# 49 High Top
It's all about volume in this magnificent hairdo as this is what makes the hair look beautiful when styled up.
The texture and color also play a significant role in it but the key is to keep the high top in place or to make it hold, and so some gel or pomade will be necessary.
Another notable thing is that the high top is also slightly messy, and this adds some twist to the cut.
# 50 Point Cut Ends
This is a favorite hairstyle, especially with younger men. It involves an elongated hair that has neat angled ends. The mane is combed onto the face and to the sides or one side.
This cut gives a man a trendy look that our superstar seems to love so much. For this style pomade or gel is also used to give the hair some nice texture and some definition.
# 51 Messy Strands
Messy strands make a great hairstyle, and they make a man look like he just came straight out of bed with a perfect hair. This do looks even much better on thick, voluminous hair like this one.
For the style, there is almost nothing you have to do to wear it except for scissor trimming hair and using some quality product. Apart from this, use your fingers to make the strands messy and you will be good to go.
# 52 Perfect Crown
The crown is the most visible part of the head, and it is probably what most people will use to judge how good or bad a hairstyle looks and the actor seems to understand this apparently judging from his hairdo.
Here he maintains a longer crown and shorter sides and back. The longer top hairs are made slightly spiky and messy and styled up to create what can only be described as a perfect cut.
# 53 Gelled & Spiky
Some gel is all that is needed to transform this natural hair into something magnificent. It is also spiky and is given an excellent side part. To finish the look, the gelled front bangs are also given a side sweep.
# 54 Faux Hawk
The faux hawk is common and widespread in equal proportions but there are many ways to wear it, and you can make it unique with some creativity.
Zac Efron's faux hawk is an edgy short haircut that is also arguably one of his best haircuts of all times. It is an impressive style with perfect outlines. The spikes in the middle hair are something that every man will want to try on their hair.
# 55 Frontward Waves
Waves make great hairstyles, but you should try and take yours further with a unique style like this one that Zac wears.
The hair is equal in length, but the waves are only maintained at the front with the rest of the hair combed to the back. Frontward waves are a good idea, but they need some gel or pomade to make sure that they can hold for long.
# 56 Casual Front Bangs
In this style, he experiments with his front bangs for a casual wear. Apart from the protruding wavy bangs maintained at the top, there is nothing much going on with the rest of the hair.However, the bangs should also be slightly messy for a perfect casual look.
# 57 Wet Hairstyle
This wet hairstyle is perfect for a day out to the beach, and it is achieved with the use of a wet gel and creative styling.
For this hairdo, the mane should be about two inches long and uniform throughout the head. A side part is then created, and a generous amount of a wet gel used to give it this design.
# 58 Eccentric Pompadour
One of the biggest advantages of elongated haircuts is that you can style them in so many different ways. Trying an extravagant hairdo like this one can help you make the brilliant display that you have always wanted.
Here the actor is sporting an eccentric pompadour that you would not pass by him without taking a second glance.
Zac Efron's Sexy Hairstyle Images
Zac Efron's hair is dark blond and wavy, and he likes to keep it anywhere between short and medium but with various types of cuts and styling.
No matter how talented you may be, as a celebrity, your image matters a lot. Looking stylish and modern is necessary if you want to remain on top of your game, and it is also good for business as it helps bring in the money.
This actor is one of the celebrities that clearly understands this judging from how attractive he has always looked. Nothing demonstrates the importance of maintaining a good image than his mane.
Over the years, he has worn many styles that have varied from fringes to messy hairdos.
Idea # 59
Idea # 60
Idea # 61
Idea # 62
Idea # 63
Idea # 64
Idea # 65
Idea # 66
Idea # 67
Idea # 68
Idea # 69
Idea # 70
Idea # 71
Idea # 72
Idea # 73
Idea # 74
Idea # 75
Idea # 76
Idea # 77
Idea # 78
Idea # 79
Idea # 80
Idea # 81
Idea # 82
Idea # 83
Idea # 84
Idea # 85
Idea # 86
Idea # 87
Idea # 88
Idea # 89
Idea # 90
Zac favors certain looks; especially styles with lift in front. These styles work well to add height and draw the eye upwards. Mostly we see him wearing easy, manageable styles which make him a perfect role model for men's hair fashion.
The one thing we can definitely learn from him is that if you find a look that flatters you don't be afraid to stick with it!