Apart from being one of the most famous soccer stars Cristiano Ronaldo is also a trendsetter. He is arguably one of the best if not the best soccer player of all time, but this is not the only thing that makes people love and follow him.
He is known for having amazing haircuts and hairstyles. Ever since signing with Manchester United in 2003 Ronaldo has never looked back both on and off the field with hairstyles.
And as he continues to grow older the Cristiano Ronaldo haircut is still and will be a topic of discussion as he always seems to come up with something new. However, the following are 80 of his all time best haircuts.
Latest Christiano Ronaldo Haircuts in 2023
# 1 Curly Hairstyle in Serie A Championship 2019-2020
These simple curls are all-natural but could be achieved by a perm or hair curler. The curls are styled upwards with a little holding product, where the sides are buzzed short with no fade. It's a youthful, easy hairstyle.
# 2 Ponytail in Italian Championship 2020
For guys with no time to deal with hairstyling, throw your curly hair back into a top ponytail. It reveals the even, short cut underneath while keeping your hair out of your face.
# 3 Disconnected Fade in UEFA EURO 2020
A style for wavy hair more than curly, this style sees the top long, messy and brushed to one side. A high skin fade keeps maintenance to a minimum on the sides.
# 4 Slicked Back Hairstyle in Euro Qualifying Soccer Match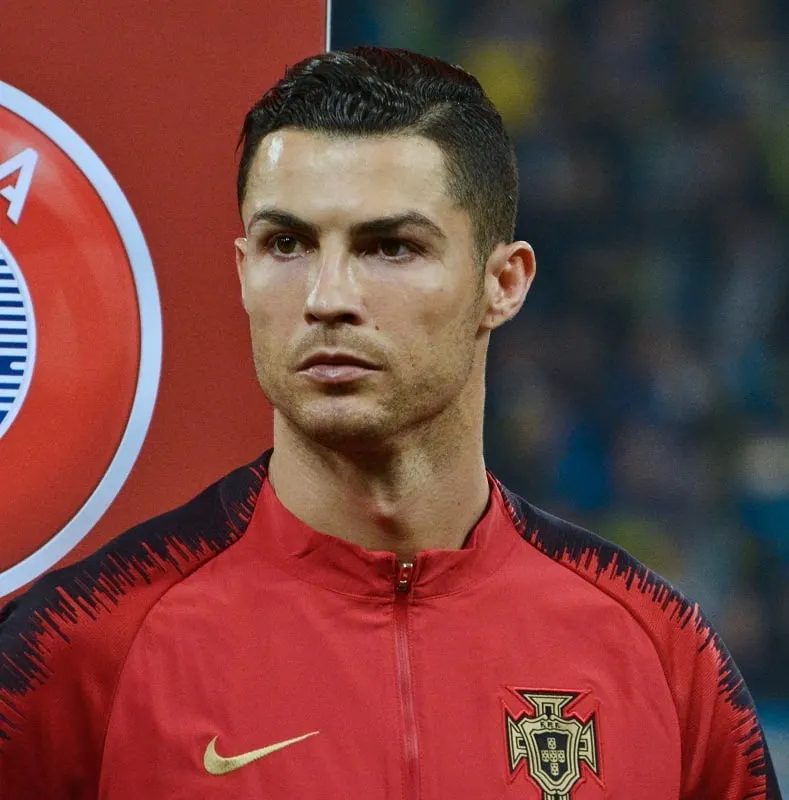 Another style for shorter hair, this style shows most of the hair slicked back, but still long on top. The slick also moves to one side, revealing a side parting and showing off the short, unfaded sides.
# 5 Blonde Highlights
If you want something eye-catching, consider getting some blonde highlights laced through the curls on top of your head. Keep the sides short with a subtle, diagonal fade so your hair has lots of texture.
# 6 Spiky Faux with Razor Side Part
The faux hawk is a very common style, but Ronaldo adds a whole new twist to it and makes it appear like an entirely new look.
In this cut, the faux hawk inspired style is left at the crown of the head while the sides and back are trimmed close. However, what makes the design more interesting is the deep razor side part.
# 7 The Wavy Top
This style is one of his favorite of all time because he worn it on several occasions during his soccer career.
It is made by leaving a distinguishable top length and then shaving the sides close with the clippers. The longer and wavy top are then styled back to finish the look.
# 8 Sleek Side Part
Few other players can be able to play around with different short hairstyles as good as Ronaldo can do it.
In this particular cut, the crown hairs are left longer but only slightly longer than the sides since they are not shaved very closely.
A side part that is also not very deep is then used to separate the two levels of hair. The crown hairs are then swept to one side.
# 9 Crown Faux Hawk
Cristiano's faux takes inspiration from the traditional faux hawk but adds a twist to the style because the longer hairs do not go all the way to the back of the head.
The faux hawk design is only made for the hair on the crown and then the rest of the head is trimmed short.
# 10 The Messy Top
The messy top in this hairstyle looks very straightforward, and it probably did not take a lot of time to wear, but he still looks good in it.
To wear this style all that is needed is to shave the sides short while living a longer top. The top should then be made messy, and some hold product applied.
# 11 Brush-Back Perfection
Ronaldo has a lovely thick and dark hair and so it's very easy to work with and most of the times he need not do anything to look good.
In this particular style, all he does is brushes back his longer crown hairs while the sides and back are slightly trimmed but still a good length is maintained.
# 12 Spiky Top
Spikes make an amazing hairstyle especially when done correctly, and Cristiano seems to get it right in this haircut.
A hold product is used in the style to make the spikes firm, and some product is also used to give them a shine. The sides are then shaved closely to match sideburns.
# 13 Messy Bangs with Highlights
This is one of the styles that Ronaldo used to wear in his early days. Unlike what he wears nowadays, it involves longer bangs that are given some highlights to add some color to his hairstyle.
The bangs are then left messy with one or a couple of them styled forward towards the forehead.
# 14 The Perfect Gentlemen Look
This is a magnificent haircut that any many with a round or oval face shape should try. And by pairing it with a nice suit, you will get that perfect gentleman look.
The style involves a neat short haircut with a longer top that is slightly swept to one side.
# 15 The Curly Affair
It is hard to imagine Ronaldo in a curly hair but he used to wear it at some point in his career, and he looked gorgeous.
His curls were medium in length, and all that he had to do was to use some quality hair product on them then style them towards the back.
# 16 Funky Top with Side Parts
This is a classic formal or professional hairstyle that Ronaldo likes to wear when gracing important soccer events such as award ceremonies.
In this look, the hair is almost uniform in length throughout the head, but the top is left slightly bigger for it to be able to be brushed back neatly. Two side parting lines are also created on both sides of the head.
# 17 Spiky Top with Razor Line
Judging from how often Ronaldo wears spikes he seems to love this style, and this is justifiably so since he looks great with them.
In this particular variation of the spiky top, he adds a deep razor line on one side with tapered sides.
# 18 Pomp Inspired Brush Back
This haircut can easily be confused with a pompadour because it has a lot of similarities with this classic style.
However, what makes it look like a pompadour is that the hair on the crown are left long and brushed buck while the sides are given a high fade. The longer top hair is also wavy and hence giving it almost pompadour like look when brushed back.
# 19 Side Slick and a Razor Side Part
The texture of the hair in this style, volume, dark color and the firmness are the things that make this style look good on Ronaldo. The hair is given a deep razor side part, and then the longer top hairs are swept to one side of the head.
# 20 The Classic Retro
As amazing as this style may look there is pretty nothing much that Cristiano does to his hair. There is also no specification to the hair length required for this design.
To wear the style just use wet gel on your hair and comb back the sides and back while leaving the top slightly messy.
# 21 Short Brush-Back Formal Haircuts
Men that love to wear formal looks will look great with this haircut, and it is also very appropriate for the professional or formal event.
Here the hair is scissor trimmed to about an inch on the sides and back and an inch and a half at the top. The hair should then be brushed back to complete the formal look.
# 22 Highlighted High Top
Most Cristiano Ronaldo haircuts involve leaving a longer top, but this style adds spice with some highlights.
The sides are tapered, but it is the highlights at the top that seem to draw all the attention. His choice of brown for the highlights is also perfect for his skin tone.
# 23 The Wavy High Top
This look is stunning and apart from the cut the wax used for styling plays the biggest role in the style.
The haircut is longer with a high top created by his naturally wavy hair. The sides and back are tapered and wax used to create an incredible wavy high top.
# 24 Messy Spikes
The traditional Cristiano spiky hair comes in many variations, and he is probably one of the celebrities that have inspired men who like spiky hair to try new styles on their spikes.
In this look, the sides are scissor or razor shaved short and the spikes left in the top section. Gel or wax is then used in the spikes to make them hold and then they are finished by being made slightly messy.
# 25 Short, Clean and Simple
In this style he does little to his hair as its natural appearance does all the magic. The only notable thing that he does to the hair is shaving the sides with the clippers on level one.
Apart from that, soccer star just uses some gel or pomade at the top section to make the natural spikes more detailed.
# 26 Classic Side Sweep and a Fairly Deep Side Line
Here Cristiano wears the classic hair sweeping style that was a must have a couple of decades ago to complete a gentleman look.
However, he adds a twist to his style because unlike the conventional designs he sweeps the longer crown hairs to the side rather than to the back.
This is done neatly with a comb, and the hairs should be cut uniformly to ensure that the hair holds. He finishes the look with a relatively deep side line.
# 27 Spiky Highlights with Faded Sides
This style adds a new dimension to the already unusual spikes with a brown highlight. There is not too much hair on the top as it is only about three inches from the forehead.
The sides are then given a medium fade to ensure that all attention remains on the highlighted spikes.
# 28 Retro with Tapered Sides
When men with spiky or flat ironed hair discovered that they could look good even with the hair short, this is one of the styles that they started experimenting with.
However, Ronaldo spices up the look by adding some tapered sides and an extra length at the top.
# 29 The Vintage Brush Back
Vintage Brush Back is an epic style that you would have easily spotted with men in suits back in the 1950's, but it has made a comeback over the years and Cristiano seems to get it perfectly right.
This haircut involves 2 to 3 inches of hair at the top and an inch on the sides and back. Some smoothening product is used on the hair then it is brushed back but in a diagonal manner and given a simple side part.
# 30 Short Wavy with Diagonal Side Line
Men with wavy hairstyle should consider trying this players haircut as it looks perfect for this type of hair.
The wavy hair is left longer at the top then styled backward but what makes it more interesting is the diagonal line that starts an inch and a half from the center.
# 31 Straight Middle Fringes
If you do not have straight or spiky hair, then it might be necessary to flat iron it to wear this style.
For this look, you can get side lines or shave the sides close to complete a simple but classy design. However, it should be done by a professional to ensure that it comes out perfect.
# 32 Short and Fancy
The person behind this hairdo must be a master of his game because he does little to the hair, but it still comes out looking incredible.
A longer length is maintained at the top of the head like most Ronaldo's hairstyles while the sides and back are carefully shaved to a uniform length with the clipper on level one to match the size of his sideburns.
# 33 Smooth Waves
This haircut leaves a longer wavy top that looks like the current Caesar wave but what sets it apart is that the long wavy top is pushed to the back rather than being side swept.
The sides and back are then smoothly trimmed with no signs of tapering or fading.
# 34 Push Back Bangs
Although Ronaldo's hair is naturally black, it appears to have been dyed in this style to make it even darker.
However, the color is not the center of attraction in this hairdo because the medium length top bangs seem to steal the show.
The bangs should be thick enough, so they can even be pushed back with the hands. There is practically nothing done on the sides and back except that they are shaved short.
# 35 Shaggy Top
Ronaldo has a naturally spiky and curly hair, and so it can look beautiful even when left unkempt. In this style, the sides and back are neatly pushed back after being gelled while the longer top is left unkempt.
After applying some gel on the top hairs, you can use your hands to make the top shaggy or messy but to look as good as Cristiano your hair should be spiky.
# 36 Spiky and Wavy Crown
This look brings together the two most important traits of this soccer star's hair. Although the crown is spiky, it is not the conventional straight spikes since they are made to appear more wavy than straight.
# 37 The Modern Faux
You do not always have to go with the traditional styles to look good, and this cut proves this beyond any doubt. It draws inspiration from the faux hawk, but it is different in two ways.
First the long hair is only maintained on the head crown, and secondly, the longer hair has more detailed spikes. Sides and back are shaved to the same length as the traditional faux hawks.
# 38 Sideways Comb with a Side Part
If you have beautiful hairs getting a fabulous style is very simple, and sometimes all you need is a comb.
In this haircut, the top is trimmed to about three inches while the back and sides are closely shaved but not very close to exposing the skull. A side part is then created, and the crown hairs combed sideways to finish the look.
# 39 Short Side Waves
Waves do not always have to be slicked back or pushed forward to look good as there is still the option of sweeping them to one side of the head.
However, to wear this Cristiano Ronaldo haircut you should not have any visible side parts, and the sides and back should be scissor trimmed short.
# 40 The Refined Look
What makes this haircut look refined is the size of the hair that is left at the top. It is his natural hair, and there is no sign of any use of a product.
The long crown hairs take up the natural texture of his locks, and so they appear slightly spiky and also wavy. The rest of the head should then be shaved with the clipper on level two to maintain a decent length.
# 41 Messy Curls
The versatility of Ronaldo's hair is something that most of his fans envy since he can try almost any style that he can think of without having to do much with his natural hair.
In this particular look, he maintains a curly top but leaves it messy while leaving the sides and back short.
# 42 The Wonder Spiky Bangs
Spiky bangs may be a little bit tricky to wear but with a good barber or stylist these should not be a problem and so Ronaldo must have had the services of a skilled pair of hands.
Since the bangs will be slicked back, they should be left long enough, and you can give them some highlights to make things more interesting.
# 43 Sleek Top with Detailed Angles
The sleek top hair in this cut is magnificent enough but what will probably draw most people's attention are the precise angles on the forehead and the sides.
These are razor cut angles and will require a very steady and experienced hand to get them right.
# 44 The Faux Hawk
Although he mostly prefers to wear different variations of the faux hawk he has been spotted many times wearing the conventional one.
His style is similar to the conventional one in many aspects because it maintains a longer hair in the middle part stretching all the way to the back while the sides are shaved short.
However, this style seems to look particularly well on Ronaldo due to his thick and dark hair.
# 45 Spiky Top with Double Razor Side Part
Although the center of attraction in this haircut is the highlighted spiky top, the two line side part also play an integral part in the design.
The spiky top is well groomed but to complement the look the short sides are given two distinct and deep razor lines on one side.
# 46 Deep Side Part with High Fade Sides
The deep side part line that is made using the razor is what brings out the contrast in the two levels of hair in this haircut to make it a magnificent style. Sides and back are given a high fade while the longer and wavy top is gelled then styled back.
# 47 Curly and Wavy
It's rare to find a haircut that brings together curls and wavy hair, but the barber in this Cristiano Ronaldo haircut seems to have got the right mix between the two.
A curly medium length hair is maintained at the top, and the curls left messy while the back and sides are trimmed just short enough to create a wavy appearance.
# 48 Classic Slick Back
This is a classic look that is most suited for professional and formal occasions. However, contrary to how it looks it is very easy to wear.
All that is needed for this style is to scissor trim the hair to medium length and apply a generous amount of hair product. You should then finish the style by slicking back the hairs neatly using a comb.
# 49 Curly Mullet
In this look, Ronaldo combines two distinct hairstyles to create his unique look that will probably be replicated by fans for many years.
To copy this haircut you should keep the hairs at neck length then make the crown hairs curly. The rest of the head should be styled into a mullet.
# 50 Side Cut and Razor Parting
What makes this a great haircut is the fact that it can be worn both formally and casually.
This cut is given a thick razor side parting to make the part more detailed and the opposite side is parted with two razor cut lines. The two lines make this look more stylish and also create some contrast in the faded sides.
# 51 All in One
Looking carefully at this haircut you can be able to see spikes, wavy hair and curls all in one hairstyle.
This is a good idea for men who are not sure what they want to have at the crown of their head, but it will require some skills to get all the three in one style and still look as good as Ronaldo.
# 52 Caesar Wave with Deep Side Part
This Caesar wave is closely cropped, and it is a consistent winner for athletes who do not have much time to spend in the salon but still want to look fantastic.
It is suitable for curly hair, but you can still get it with any hair provided you can make it into the Cristiano Caesar wave and not forgetting the deep side part from where the wave should start.
# 53 Vintage Retro
Few other Ronaldo haircuts are as simple to wear as this one as it can be worn on any hair length except very long hair or long locks.
And the best thing is that all you need is wet gel and some styling skills and in most cases no cuts at all. The slight side parting is done with your fingers after applying the gel.
# 54 The Wax Magic
You can probably use many other different hair products to achieve the same results in this hairstyle, but wax seems to work way much better.
Wax transforms this simple haircut that involves short trimmed sides and a longer top into an elegant style that you can wear every day. However, you should be more generous with the wax on the crown hairs for the hair to look more attractive.
# 55 Grown Out Side Part
Cristiano Ronaldo's biggest advantage when it comes to hairstyles and haircuts is the fact that he has a fabulous natural hair, and this style demonstrates this well.
In this cut, a longer top that looks grown out is kept and given a simple side part with the hairs swept to one side. The sides and back are then scissor trimmed for an elegant finish.
Idea # 56
Idea # 57
Idea # 58
Idea # 59
Idea # 60
Idea # 61
Idea # 62
Idea # 63
Idea # 64
Idea # 65
Idea # 66
Idea # 67
Idea # 68
Idea # 69
Idea # 70
Idea # 71
Idea # 72
Idea # 73
Idea # 74
Idea # 75
Idea # 76
Idea # 77
Idea # 78
Idea # 79
Idea # 80
As long as he is in the limelight Cristiano Ronaldo will continue to be a trendsetter in haircuts and hairstyles, but the good thing is that most of the 80 haircuts above are easy to replicate.
To copy these styles all you need is a well-groomed hair and the services of a skilled barber. However, most of his cuts are best suited for oval and round shaped men but trying out a couple of them you may find one that looks good on you regardless of your face shape and hair type.