Ryan Gosling has a style that suits him and he doesn't change it that often unlike other Hollywood stars. He does make small adjustments and sometimes these make him appear trendier but more often than not he can be seen rocking retro looks from the 90's.
Ryan knows what works – the trick is not the style itself, but the confidence you wear it with! Today we look at 50 of the hottest Ryan Gosling haircuts:
# 1 Smart Side Swept Greased Look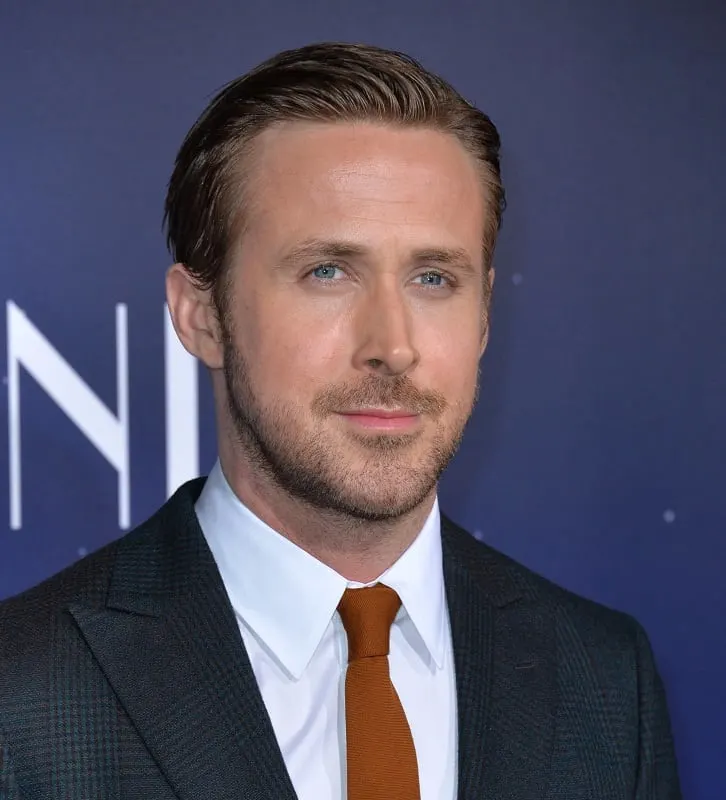 This look works for formal occasions. The hair is visibly slick and greased to hold the side-swept style that doesn't come naturally. It works wonderfully with a suit, but it's not an everyday look.
# 2 Short Spikey Ruffled Look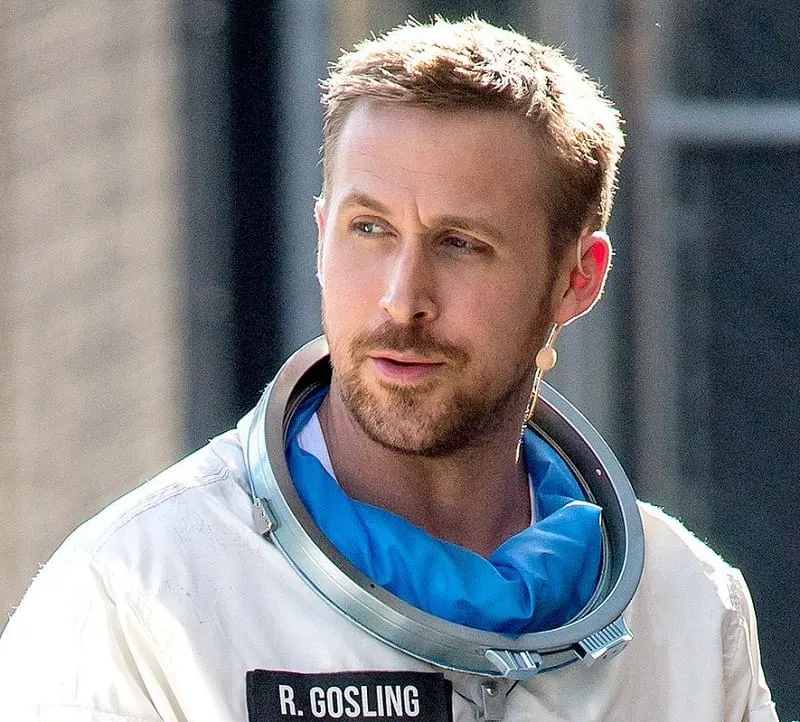 This look sees Gosling sporting a shorter, more everyday look on the set of First Man. The hair is lightly styled into easy spikes at the front with the sides kept short.
# 3 Old Fashioned Soft Side Part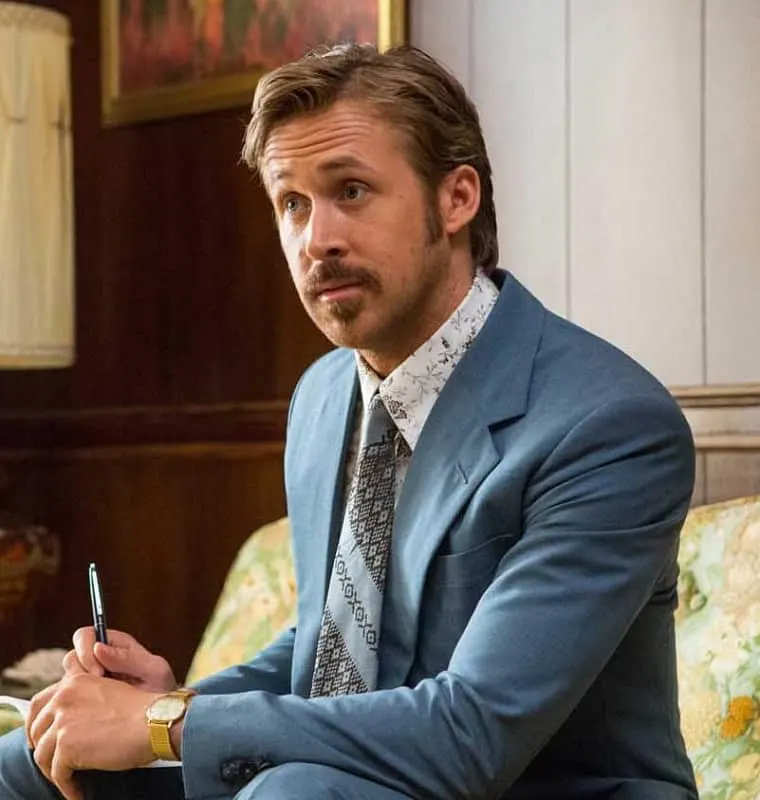 Clearly in character here, Ryan sports an old fashioned look of soft hair with a gentle side parting. One side is brushed back behind the ear while the other falls lightly over the forehead.
# 4 Short Spikes & Bristles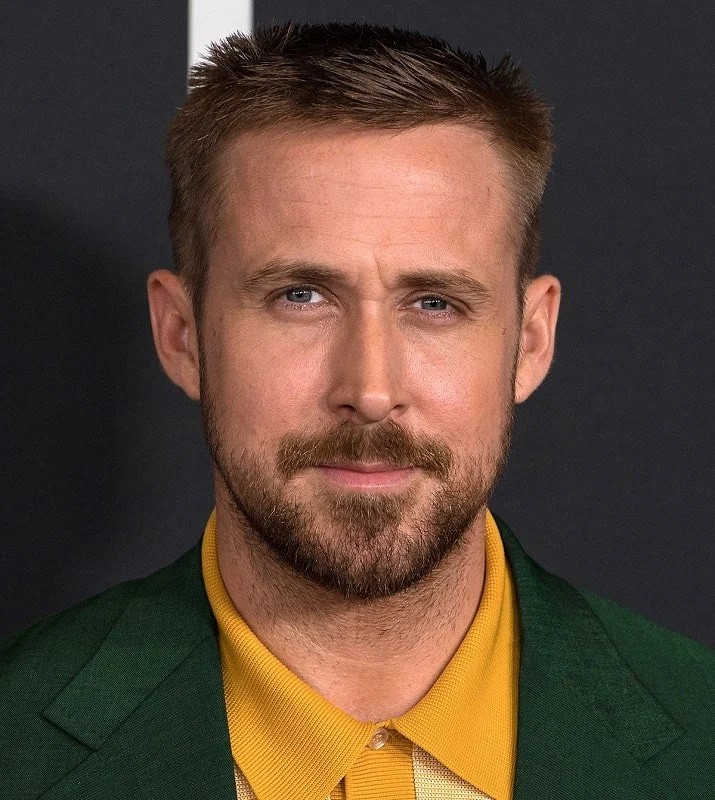 One of Ryan's sportier looks, the short sides with spikes and bristles on top creates an easy look that anyone can achieve. It's simple, but it works for many occasions.
# 5 Damp Side Swept Look
Ryan's look for this La La Land scene sees him sporting wet hair pushed gently to one side. Replace the water-logged locks with some styling gel and you have yourself an easy everyday look that's also great for formal occasions.
# 6 Side Brush
In this picture, Ryan is wearing a hairstyle that is shorter on the sides and longer in the top section. His hair has an off-center disconnected parting and each side has been combed down to the sides with a little lift on the forehead.
# 7 Ryan's Color
Although we've seen him with lighter locks than this, his trademark earth brown and blonde palette are the most flattering. He's wearing a center parting with medium length hair that has a choppy cut to provide texture and dimension.
# 8 What Rules?
Ryan sometimes defies fashion rules and he still comes out looking handsome and on-trend. Here he wears his hair at the same length on the sides and back with scissor cuts and a messy parting.
To finish the look off, the hair was tousled with a little product to keep it looking awesome!
# 9 Short And Sexy
Not every guy can wear super short styles like this because you need the right shape face and head to pull it off. Of course, Ryan Gosling has the right bone structure and that's why he smolders in this brush cut.
# 10 Picture Frame
Longer feathered cuts for guys were popular in the nineties and Ryan is still pulling them off. In this picture, you can see the texture created by expert cuts and teasing as well as the way the hairstyle frames his face.
# 11 Star Tousle
In this picture, he is wearing his hair at a medium length with a high parting. His locks have been finger combed to have a rough texture and a few strands have been brushed forward to fall onto his brow.
# 12 Evening Style
Here we see Ryan wearing a look that is a little messy, but nevertheless perfect for an evening event. The stylist has begun by giving him an off-center parting and styling most of his hair to lie on the side and then back.
On the right, the hair has been slightly tousled to give it texture.
# 13 Romantic Ryan
Longer locks like these soften Ryan's face and give this look a romantic feeling. In this picture, his hair is at a medium length and just passes his collar at the back.
He is wearing a rounded cantered parting which helps the volume of his hair fall to the right and brush against his face.
# 14 Bleach Blonde
This is the look that Ryan wore to play the character Luke in the movie The Place Beyond The Pines. He is sporting bleach blonde locks with a messy, disconnected parting on the side and a slight rise over the forehead.
# 15 Short Back With Volume On Top
Ryan is wearing his hair shorter on the side here, with longer locks on the other side of the parting. The longer hair has been brushed over and given a little lift to create volume while the back is nearly snipped short.
# 16 Hair Throwback
In this snap of a younger Ryan, we can see how his style has progressed. Here his hair was still being worn in a style heavily influenced by the grunge movement – floppy locks and a jagged parting with natural waves.
# 17 Lift Off
Ryan is wearing short tapered sides with slightly longer hair on top. All this hair has been neatly brushed back and to the sides while a section in front is combed up and back in the pompadour style.
We can also see a high side part that provides structure to the look.
# 18 Texture King
Copy this look by asking your stylist to snip your locks with chunky scissor cuts to achieve the same texture that Ryan has here.
Keep the sides just slightly shorter and balance the look by brushing the front section over to the side like this. Finish it off with your favorite product.
# 19 If It Works
Ryan loves that side parting and knows that he looks good in it. Don't be afraid to stick with something that works for you and just change other small elements like he does.
In this dressy style, he sports razor cut sides and long upper locks that have been brushed up and back into a handsome coif.
# 20 Soft Sides
In this picture Ryan is wearing short sides but instead of being razor cut they are slightly longer and look deliciously soft. In contrast, his top locks are slightly longer and have been styled with tousling and product to have a small wave in front.
# 21 Punk Revival
Here we see Ryan as the character Luke again rocking an almost punk feel hairdo. His hair is quite a bit longer than usual, with a few loose locks reaching almost to his brow. Super light locks like these work well if you have deep blue eyes like his.
# 22 Sleeked Back
In this picture we see Ryan wearing his hair in a dapper look style – neatly trimmed and sleeked across and back, held in place with the product. It's an orderly hairstyle that looks sexy with his stubble beard and moustache.
# 23 Messy Is Sexy
It's not often that we see him wearing scruffy looks but it suits him well! His hair was teased and finger combed to give it that disconnected feel with a quiff in front to keep it trendy. He's paired it with a natural messy beard to complete the look.
# 24 Right On Ryan
In this shot, Ryan is wearing a side comb over with a little volume over the front. The sides are short but still trail around the ears and there are a few loose strands that brush his forehead.
# 25 Casual Character Hair
In this picture, from the movie Blue Valentine, we see Ryan as the character of Dean. For this film, he wore his hair at a medium length, with the hair at the back just reaching his collar. The locks have been slicked back for a relaxed, casual look.
Idea # 26
Idea # 27
Idea # 28
Idea # 29
Idea # 30
Idea # 31
Idea # 32
Idea # 33
Idea # 34
Idea # 35
Idea # 36
Idea # 37
Idea # 38
Idea # 39
Idea # 40
Idea # 41
Idea # 42
Idea # 43
Idea # 44
Idea # 45
Idea # 46
Idea # 47
Idea # 48
Idea # 49
Idea # 50
After checking out these pictures of Ryan Gosling haircuts one thing is clear. If you love a style don't be afraid to stick with it – rather just make small changes like a quiff or short sides to keep it modern.
Be like Ryan and don't be a slave to fashion; rather find your own individual style!